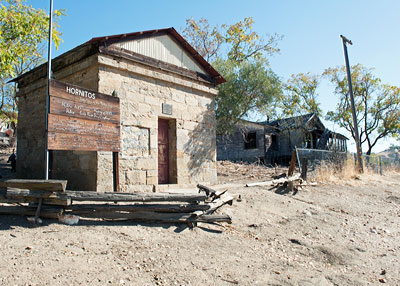 Calabozo
High Road
Hornitos
Built c1854
The plaque over the door reads:
To remember the Hornitos Calabozo's welcome to the 1854 brethren "Credo Quia Absurdum"
Dedicated by the Ancient and Honorable Order of E Clampus Vitus
May 8, 1954

Gold Rush Stonemasons
Mining camps started as clusters of tents and other makeshift shelters. If the mine was productive, wooden buildings were erected and a town was born.
Conflagrations were a recurring curse. Often entire town were repeatedly destroyed by fire. Stonemasons, especially Italian immigrants from Liguria, began building "fire proof" banks and stores of stone or brick with iron doors and iron window shutters to protect the contents from fire.
Many of these stone buildings survive. Some of them, such as the Butte Store, are the sole reminders of a lost mining town.
Some of these buildings are:

Historic Jailhouses