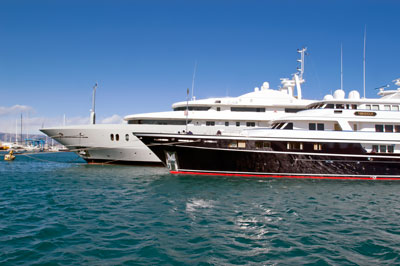 Motor Yachts Alysia and Virginian
(Alysia has been rechristened Moonlight II)
Antibes
Antibes is today one of the most popular resort towns on the Côte d'Azur, but through most of its history, it was important for its strategic location and fortified harbor. The Greeks came first, in the 5th century BC, and called it Antipolis. It also became a Roman settlement and, later, an embarkation point for the Crusaders as they sailed for the middle east. By the 16th century, the massive Fort Carré had been built to guard the harbor. Napoleon was briefly imprisoned in the fort during the Revolution.
In the 1920's, Antibes was discovered by the wealthy party crowd and, today, Fort Carré stands sentinel over Port Vauban, one of France's biggest pleasure boat harbors. The line of huge yachts looming above the dock was intimidating and we worried we'd be shooed away by guards. But it was March and the yachts were still being readied for the season. The owners wouldn't arrive until warmer weather, and the crews didn't seem to mind us wandering about taking pictures.
Near the old port is a peaceful beach, Plage de la Gravette. All the noise of the town disappears as you sit on the sand and quietly contemplate the sea. For a more panoramic view of the Mediterranean, walk along the busy Promenade Admiral de Grasse. Nearby is the old town, the cathedral, and Chateau Grimaldi, which houses the Picasso Museum (closed during our visit but scheduled to reopen in 2007).

Population in the year 2007: 75,770
Elevation: 10 meters
Region: Provence-Alpes-Côte d'Azur
Department: Alpes-Maritimes
District: Grasse
Source: Map-France