Cannes, France
Saturday, July 12th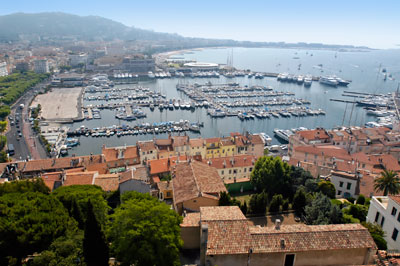 Cannes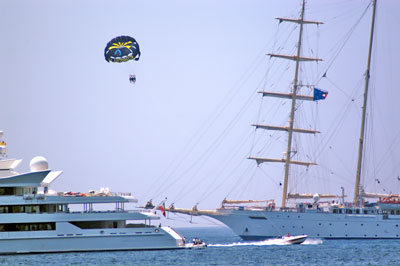 Star Clipper Anchored in the Bay of Cannes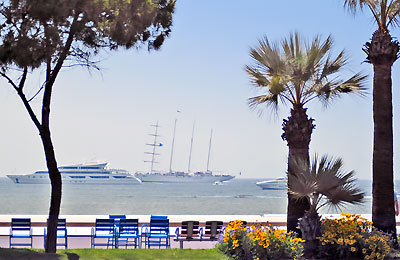 Star Clipper Viewed from Promenade de la Croisette
Before dawn, the Star Clipper slipped into the harbor at Cannes and dropped anchor. The week-long cruise had ended and most passengers would disembark. The crew has six hours to clean, provision and prepare the ship for the next group of passengers. Although we would continue for a second week, we left the ship for a day in Cannes. We accompanied John and Katy in the tender to the dock and bid them farewell. They were departing Cannes by car on a trip through Italy, Switzerland, Luxembourg, Belgium and France before returning to London. They were great fun to be with and we wished them well.
We began with a walk up the slope of Mount Chevalier into the old town, or Le Suquet, as it is known locally. Cannes was first called Canoïs, or cane harbor, after reeds that filled the marshes below. Although not as large as many of Europe's old towns, its winding, narrow streets are charming nonetheless. As we made our way uphill, Al recognized some of the cafes and restaurants from his 1997 visit. We reached the Place de la Castre, which is the site of the Church of our Lady of Good Hope (Notre Dame d'Espérance), the old Castle, and a large terrace which offers a wonderful view of the town and harbor.
The Castle, which dates from the 11th century, is now a museum. A special exhibit of works by Algerian painters was very interesting, as was the permanent collection of paintings and archeological objects. From a courtyard, we climbed the Mount Chevalier Tower, a 12th century watch tower, and enjoyed an even better view of the land and sea below. As we left the Castle, we discovered many cats, few of whom were interested in making friends.
The tranquility of the old town disappears completely in the traffic noise below. The newer streets teemed with Saturday morning activity. Many locals were out to shop and visit the weekend markets. We browsed at the marché aux puces (flea market) and, as usual, I spent most of my time in the used book section. There were so many temptations and I wished I could buy a dozen or so. But the thought of lugging them onto an airplane limited me to a single purchase: a beautiful volume of Lettres de Mon Moulin by Alphonse Daudet.
The beach along Boulevard de la Croisette was packed. With the temperature so high, almost every beach chair and umbrella was taken by mid-morning. Off in the distance, hang gliders were pulled into the air by motorboats. There were water-skiers, sailboats, and yachts of every size. Along the boulevard, the many free chairs were taken and people vied for the few shady spots.
A few blocks from the waterfront, we had lunch at a small restaurant called Fontana Lamy. Sitting outside under a large sun umbrella, we watched many of the locals come by, including two toddlers with their mother. Hats on sideways, shirtless, underwear (diapers) pulled up above their shorts, these two little guys looked like future Calvin Klein models.
The afternoon was spent wandering languorously about town. I bought my first Guide Vert, a French language Michelin guide to the Côte d'Azur. We had a drinks in a surprisingly plain lobby of the Carlton. Men played boules in the shade near this morning's flea market.

On a busy sidewalk, we came across a mime costumed in pre-Revolutionary dress, who had two cats. The cats would stand, sit or lie on his shoulders, arms or head; they would even lie on their backs in his open hands. Never have I seen cats so calm. It being a hot day, he occasionally sprayed mist on them. Just water? On a sign, the mime insisted the cats were not drugged or mistreated, just very friendly. He wrote that he was a family man who performed with his cats simply to bring joy to others. (But I'm sure the contributions made by onlookers weren't unwelcome.)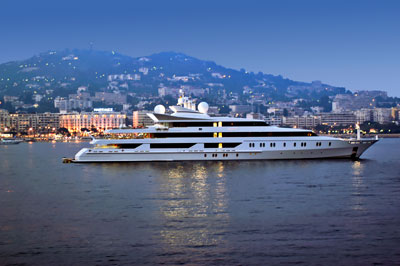 What You Think Of When You Think of Cannes
It was so hot that I finally went back to the cool of the ship. Al walked back to old town to revisit some of the places he had discovered six years ago. He later returned to the ship with wine and cheese, which we shared on deck after the ship sailed at 10:00. The sea was, as they say, "smooth as glass" and there wasn't the hint of a breeze to fill the sails. Still, with all 17 sails up, I'm sure it must have thrilled the new passengers who were embarking on their first Star Clipper cruise. The start of any cruise is exhilarating, no matter how many times you've done it.