Bonifacio, Corsica
Wednesday, July 9th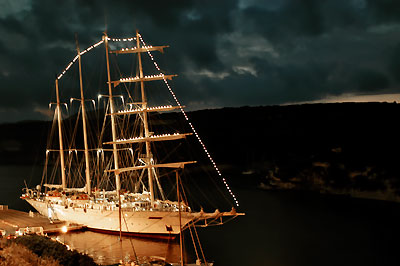 Star Clipper Docked in Bonifacio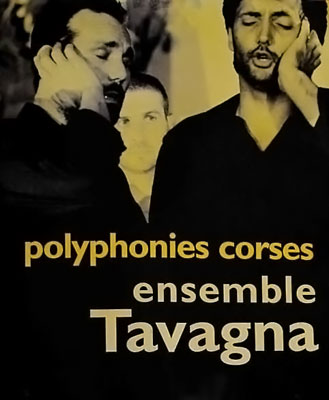 Chjami Aghjalesi Website
Listen to Dio vi salve Regina:
We made a beach stop this morning. Figari Beach is located on the southern coast of Corsica, in the Gulf of Figari, a few miles west of Bonifacio. We went ashore and decided to try a small sailboat. Although it is meant for one sailor, we both climbed in and were promptly dunked into the water. I retreated sheepishly to the beach and Al sailed off alone. I didn't have any desire to take the tiller myself so when Al was finished, we yielded the sailboat to a German fellow who monopolized it for the rest of the morning.
The entrance to Bonifacio is spectacular. On our previous visit, rough seas forced the Star Clipper to bypass this entrance and dock at Portovecchio several miles to the north. We were then bussed back to Bonifacio. Today the sea was calm and, sails furled, the ship entered the narrow inlet. To the left, a rocky coast and wooded hills above; to the right, steep cliffs rising to a flat plain called the Bosco. High above, tourists stopped to observe our entrance. Soon we could see the old town perched on the cliff.
The ship docked just below the old town, near a road and stairway that led upwards.
We walked up to the old town. Because we had been here in 2001, we didn't make the long walk out to the Bosco and the cemetery.
Instead, we meandered among the shops of the old town, walked down to the new Port de Plaisance where private pleasure boats and excursion boats are docked. At dusk, we set out to see the town after dark, and dined at a small restaurant, U Castille. From the cliffs above, the Star Clipper looked majestic with all her running lights on. She clearly dominated the harbor.
Before the ship sailed, I Fratelli, a local group, performed traditional Corsican polyphonic songs.