Venice was blanketed with a fog this morning, mist rising like steam from the Grand Canal. Even our breath was steamy. Off to the east, the Salute was partially hidden in the fog but a yellow disc could be seen above it, waiting to burn through. We rode the vaporetto to the Rialto and walked through the Cannaregio to the Fondamente Nuove. We wanted to check out some shops we had seen a few days earlier as well as take a closer look at the Campo Santa Maria Nuova, a quiet campo off the beaten track.
The sky was clear and blue as we set off for Murano. The island is known for its glass-blowing, so we watched two demonstrations. Yes, they were set up for tourists and the workers made the same things all day (a tiny horse and a pitcher), but the process is nonetheless fascinating. Well worth our time.
I also got to see a small lumber delivery, a load of lumber lifted by crane off a boat onto a hand cart for transport through the streets. I'll show a picture of this to the teamsters at Beronio Lumber in San Francisco.
After a pizza at the Trattoria alla Vecchia Fornace, and a little more wandering about town, we headed back to Venice.
Murano is a rather quiet island.
The Ca'Rezzonico is a 17th century palace once owned by the wealthy and influential Rezzonico family (one became Pope Clement XIII). It was later purchased by the son of Robert Browning and it was here the poet died in 1889.
Today it is a museum of 18th century decorative arts, a stunning home for many paintings, frescos, pieces of furniture, porcelain, and other fine works of art. When new rooms were added in the 18th century, many prominent artists, such as Giambattista Tiepolo, were called in to decorate the walls and ceilings with frescoes. The second floor has my favorite, the Room of the Clowns. There are also many frescoes by the younger Giandomenico Tiepolo, including his great panorama, The New World. It is on the third floor that one can sense Venetian life and habits. There are reconstructions of a bedroom, boudoir and dressing room, a puppet theater, and a pharmacy.
When we visited Ca'Rezzonico in 2002, photography was allowed. When we visited again in 2014, photography was prohibited. However, reproductions of the images themselves are in the public domain.
Photo Album: Giandomenico Tiepolo
Pulcinella with Acrobats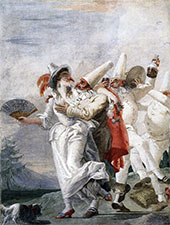 Pulchinella in Love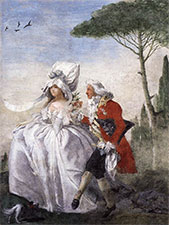 Minuet in Villa
Another dinner at Hotel Malibran, another concert. This took place at the Teatro Goldoni: Brahms' Liebesliederwalzer and Stravinsky's Les Noces.
Afterwards, we walked toward the Piazza San Marco, passing the Ristorante Terrazza Goldoni with a piano player on the terrace serenading its diners. At San Marco, we listened again to the dueling orchestras and looked at the wares of the artists who had set up their displays.