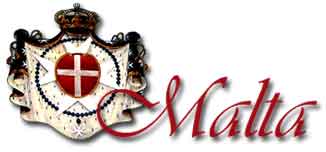 Tired of trying to find a decent breakfast in our neighborhood, we took breakfast in the room. Not bad, and not too expensive. Certainly convenient.
We took a bus to Mdina, the old capital. Perched on a hilltop at the center of Malta, where settlements have existed since the Bronze Age, Mdina is a fine example of a medieval walled town. Its cathedral dome and surrounding walls can be seen from far away. With few shops and only about 400 inhabitants, the town maintains a calm and peaceful dignity. The narrow streets and alleys twist and turn, helping to keep the town cool and, in more dangerous times, to confuse invaders. No enemy could shoot an arrow any great distance in this town.
It was here, in 60 AD, that Publius, the Roman governor welcomed the Apostle Paul after his shipwreck and became Malta's first convert to Christianity. In 1565, during the Great Siege, the inhabitants acquitted themselves well, making sorties into the countryside to disrupt the Turks. Valletta became the capital in 1571 and Mdina settled into a quiet existence as the "Silent City".
We crossed the moat, entered the town through the main gate, and walked through the surprisingly quiet streets. There were only a few tourist this morning, some riding in horse drawn carriages. The sound of hooves on cobbles echoing in narrow streets adds to the atmosphere.
The octagonal dome and spires of St Paul's Cathedral dominate the surrounding countryside. Construction was begun in 1697 after its predecessor was destroyed in the great earthquake of 1693. Little survives from the previous cathedral other than a baptismal font and the sacristy door. The interior floor is covered with marble slabs, much like in St John's Co-Cathedral in Valletta. But here, it is prominent Maltese ecclesiastics and aristocrats who are commemorated, not knights. There is grandeur here, in the gilded carvings, paintings, frescos, and chapels; but it is not as rich and voluptuous as St John's.
Across the square is the Cathedral Museum, which houses an interesting collection of painting, woodcuts, engravings, coins, statues, musical instruments, silver plate, the archives of the Inquisition, and much more. Interesting to me was a painting of St Sebastian with a moustache, by the Antwerp painter Theodor Rombouts (1597-1637). Sebastian looked very much like a 17th century Belgian.
After a very nice lunch at Palazzo Notabile, we walked all though the town, looking at the various homes. There are many old houses here, most lovingly restored and maintained but not open to the public. Still, it is interesting to see the many wrought-iron balconies, elaborate knockers, and medieval façades as one explores the narrow backstreets and alleys.
Rabat lies just outside the walls of Mdina and is the area's commercial center. With many shops, bars and restaurants, it is as alive as Medina is sleepy. In fact, a grandstand had already been set up for the traditional horse and donkey races that would take place on June 29. In the early afternoon, as in Italy, most shops close. But many today were crowded as the locals watched Italy play Mexico to a tie in a World Cup match.

We walked to the Church of St Paul, quiet and deserted during our visit.
Beneath the church is the Grotto, where St Paul is said to have lived during his three months in Malta. Tradition says that his venerable presence caused the stone of the cave to have miraculous healing powers and that, no matter how much of the surface of the walls is scratched off by tourists and pilgrims, the grotto remains exactly the same size.
An 18th century marble statue of the saint stands in the grotto today, near a plaque commemorating a visit by Pope John Paul II in 1990.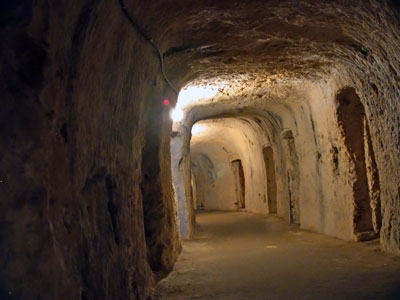 Catacombs in Mdina
Nearby are a series of catacombs. These were hewn from rock by early Christians who were forbidden by Roman law to bury their dead within the city limits and who would not accept cremation. They also provided a secret place for religious services during times of persecution. Catacombs were created all over the island and in later years were used for various purposes such as cattle pens and World War II air-raid shelters. In Rabat, there are three sets of catacombs and we visited those at St Agatha's Church. It is an amazing network of passageways and crypts, some decorated with frescoes. Only a small part of the passageways are open to the public. It would be easy to get lost in this labyrinth which, for some, could be quite claustrophobic.
St Agatha's is also home to a rather unusual museum. There is a little bit of everything: coins, furniture, vestments, statues, lamps, animal remains (including a mummified alligator from the Nile). In a glass display case was a very realistic model of the bloody, severed head of John the Baptist. Bizarre. Some items were displayed in rooms and along corridors; but others were stuffed into corners and small rooms, looking very much like the storage area of a theater or opera house. We called it the Museum of Old Stuff and it was indeed a marvelous discovery.
Back in Paceville that evening, we had dinner at Tosca's, served by an unsmiling, sullen waitress. The rabbit stew, a Maltese specialty, was tough and hard to eat.