The clouds returned this morning. Tired of the same old hotel breakfast, we went around the corner to Bar de Gino, a coffee bar.
There we had cappuccino, sitting next to a group of hung-over revelers Al had seen the night before, carousing loudly through the Accademia. They looked a bit worse for wear this morning but were still drinking beer in their disheveled evening clothes.
They obviously had a very enjoyable night.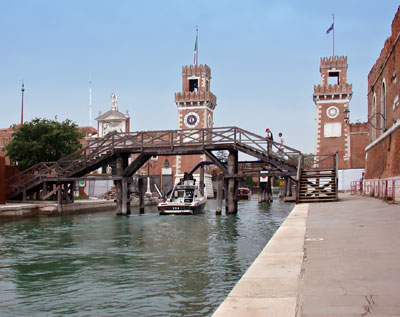 Arsenale Bridge
Our plan for the day was to explore part of the Castello sestiere, in particular the Arsenale, the Giardini Publici, and the Isola di Sant' Elena.
The Arsenale was once the shipbuilding center of the Venetian empire. Today it is occupied by the navy and mostly off limits; but there is a naval museum open to the public. Thousands of objects are on display, offering a full view of Venetian and Italian naval history: guns, uniforms, models of fortresses and ships, navigational instruments, gondolas, and much more.
Quite interesting.
The public gardens are pleasant and quiet, created by Napoleon out of marshlands. Much of the site is occupied by the Biennale, an art exhibit that takes place every two years. In the park are pavilions of the various participating countries, many designed by famous architects. These permanent pavilions have turned the park into a sort of overview of 20th century architectural development.
I preferred the gardens of the island of Sant' Elena. This remote island at the eastern tip of Venice had few tourists and I found it to be a peaceful, green refuge from the bustle of the city. The Campo dell' Indipendenza provided quiet and relaxing benches for the weary.
Tonight we headed for the Rialto area for dinner and a concert. Dinner was at the Ristorante Hotel Malibran, a pleasant meal. The concert took place at the Scuola Grande di San Teodoro. We heard arias and orchestral selections from Baroque operas by Mozart, Bizet, Puccini, Mascagni, and Verdi, performed by a soprano, a baritone and a small orchestra, all in period costumes. Very enjoyable.
Another nice night for strolling. We decided to try the famous Gritti Palace for a drink. Seated on the terrace along the Grand Canal, we could see the outlines of the Salute and the vaporetti passing by in the night. The service, however, was blah and haughty. I guess we didn't look wealthy enough. A smattering of rain was a welcome reason to depart.