Wednesday, 5 September 2001: San Francisco
Fly from San Francisco To New York. Beautiful day and a clear view of New York City, with its World Trade Center towers. Then on to Paris.
Thursday, 6 September 2001: Languedoc, France
Following our morning arrival in Paris, we continued on to the Languedoc region of France, touching down in Montpellier just after noon. Our rental car was waiting for us at the most efficient Hertz operation we've encountered in Europe. It took about an hour and a half to drive to our first destination, the Chateau de Grezan, near Laurens, a town of about 1000, just north of Beziers. (The town's name derived from the Latin "laureus", or laurel, which the roman settlers found growing in the area.) The chateau evolved from a Roman villa, housed the Knights Templar, and is now a private chateau and the home of Madame Marie-France Lanson and her family. It has undergone extensive renovation in the last 50 years. Although only 20 minutes north of Beziers, the chateau is isolated, surrounded by vineyards, and very quiet and peaceful. Well, not always, as we would soon learn.
Madame showed us to our room, which was quite large, with old furniture and an extensive library. But there was no place to hang or store clothing and no lock on the door. As we didn't want to leave the laptop computer unsecured, we questioned Madame about security. She seemed puzzled that we were concerned. After all, she pointed out, there was no one in the house today except her and her son. So I carried the computer as we ventured out to explore the countryside.

We drove south to the old town of Beziers which is on the river Orb. Like many towns in this part of France, Beziers was a "city of passage;" Celts, Iberians, Phoenicians, Greeks, Romans, Arabs and Franks all settled here at one time. It was a prominent center in the Languedoc region until it fell victim to the Albigensian Crusade. This was the crusade undertaken in the 13th century by the Roman Catholic church to repress the Cathar sect.
The Cathars were critical of corruption in the church and believed in a dualistic separation of "good" and "evil." Their beliefs, way of life, and religious rituals conflicted with Roman Catholic thought, especially in their rejection of certain sacraments and tolerance of different customs. The movement spread throughout the region, making most of Languedoc "Cathar country." Although Catholics still outnumbered Cathars, Pope Innocent II launched a crusade in 1209 to wipe out this unorthodox heresy and reestablish the primacy of the "true church" in Languedoc.
The crusaders approached Beziers and demanded that 200 Cathars be turned over to them. Beziers itself was a Catholic city, but one which welcomed outlawed heretics. The city fathers therefore refused to surrender any of their townspeople to the crusaders. On the afternoon of July 22, 1209, Beziers was stormed by the crusaders. Every one of the town's inhabitants was indiscriminately slaughtered: old and young, men and women, Catholics as well as Cathars. "Kill them all. God will know his own." Then, Beziers was put to the torch and became a funeral pyre for 15,000 to 20,000 victims. All in a single afternoon. All because everybody didn't follow orthodox religious customs.
We crossed the Pont Vieux, a 13th century bridge with 17 arches, and looked back on Beziers' old town and the cathedral, high on a hill overlooking the Orb.
Then we drove westward, to check out some of the small and often overlooked villages of Languedoc which line the Canal du Midi. Our first stop was the small village of Colombieres. Not much to see in town, but the canal was very pleasant. A few boats went by, with their inhabitants relaxing on deck or in their cabins. The Canal du Midi was built in the 17th century, the successful completion of 1500 years of dreams to connect the Atlantic with the Mediterranean. It isn't deep or wide enough for today's commercial trade but is used extensively for irrigation and tourism. Barges are hired for leisurely trips along an attractive winding course through locks with oval or round basins, under elegant brick bridges, between vineyards, plane trees, sycamores, cypresses and umbrella pines.
In 1787, Thomas Jefferson, American minister to the court of Louis XVI, spent four months in southern France and Italy. For nine days, he traveled alone from Sete to Toulouse on the canal, then known as the Canal Royal en Languedoc. It was a leisurely trip and he sometimes drove his carriage along the shore. In letters to his daughter and others, he described the locks, towns and countryside along the canal.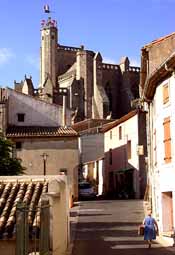 Capestang
Our next town was Montady which had nothing at all of interest. So we drove on to Capestang, one of the most charming towns we've encountered. The people were very friendly and we sat in the small square, drank a beer and enjoyed the tranquil evening. As dinnertime approached, we decided to head back to the chateau. But to get there, it was necessary to drive through Beziers during the evening commute. The maze of winding streets and unfamiliar signs totally confused the navigator, causing an irritated driver to make two circles within the town before we found the right road to the north.
Jet lag had not set in but we chose to have dinner at the chateau rather than drive back to Beziers. We dined on an outside patio, surrounded by trees and flowers, and two rather noisy, undisciplined English children. The food was excellent.
Friday, 7 September 2001: Languedoc
Up early and off to explore. We didn't want to lug the computer about so took our chances and left it in the room, We stopped first in Capestang for coffee and found the town just as charming as yesterday afternoon. Everywhere we walked, the people were friendly. The church was lovely with very nice stained glass. The town is on the Canal du Midi, and running through town is a drainage ditch of sorts and the street alongside was called "Quai de la Seine," which seemed like a reach.
We drove on to Olonzac but were too late for breakfast and too early for lunch. So on to Trebes, where we had a pizza at a restaurant right on the Canal. In all French towns, the only businesses open from noon to 2:00 are restaurants. Storefronts and houses are shuttered and formerly friendly streets become lonely and deserted. By now, the sky had clouded up and it looked like rain. We walked about and saw a houseboat on the canal with clotheslines strung up on deck drying the laundry.

Carcasonne: one of the famed fortified cities of Languedoc. Famous because it is the most perfectly restored medieval towns in France. So perfectly restored, so clean and tidy, so "Disneyfied," according to Al. It sits high on a steep bank overlooking the river Aude, and can be seen from miles away, its many turrets and ramparts giving it a fairy-tale appearance. From afar it is quite impressive. With fortifications dating back to the 1st century, it grew in importance due to its strategic location on the route to Toulouse. But after the cannon was invented in 1350, Carcasonne, like most fortified cities, became obsolete, was abandoned and fell into decline and disrepair. The walls of many such cities were torn down and their stones used elsewhere. Fortunately, this did not happen to Carcasonne and, in the mid-19th century, restoration was begun that has continued for 150 years. Early in the restoration, conical caps were added to some of the turrets, an architectural anomaly, as this style was never used in southern France. To make matters worse, the caps were covered with blue slate tiles, a material not native to the region. They looked so out of place the the town has begun to replace the blue slate with the ubiquitous red tiles that adorn so many buildings in Languedoc. Ultimately, the overall quality of the restoration of the town is simply a matter of personal taste. Should it all be neatly organized and architecturally correct, or should we experience some of the disorder and chaos that must have existed in the middle ages?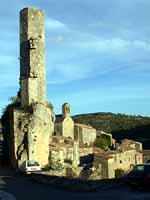 Minervel
It was late afternoon and time to head back. But first we detoured north into the arid, parched hills of the Minervois, to see Minerve, another fortified town perched high above the confluence of the Cesse and Briant rivers. This, too, resisted the Crusaders for seven weeks, before surrendering and yielding 140 Cathars who were promptly burned at the stake. Many people still live in this small town, which is reached by crossing a high bridge spanning a deep gorge. All that is left of the old castle is an octagonal tower. The town in surrounded by hills of soft limestone, into which nature has carved many caves. The caves often served as hiding places for Cathars during the Crusade.
As we explored the ramparts, the setting sun reminded us that it was time to head back. We reached Beziers after dark and had another harrowing spin through town looking for our route north. Finally, we were back on the road to Grezan. Thinking we might get a meal nearby, we followed a road sign to Pailhes. All we found was a closed up town with no sign of life. To make matters worse, we couldn't figure out which road out would get us back on the road to Grezan. The one we chose had neither lights nor direction signs, but we eventually found our way to the main road, many miles further south than we had been when we turned toward Pailhes.
Finally back at the chateau, we encountered a wedding reception. A month before, we had been warned by email that there would be a wedding reception on the afternoon of our arrival (Thursday), which was OK with us. But this was Friday night and the young folks were rocking - on and on and on - until after 3:00 AM. We didn't get much sleep.
Celestial Receptors
Trebes
Le Weekend
Trebes
Carcassonne
Distant View
Carcassonne
Closer View