20 September, Thursday: Capri and Sorrento, Italy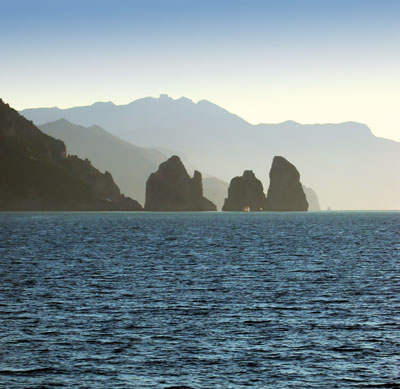 Faraglioni
The sunrise was gorgeous as we approached Capri, the "Island of Dreams," a fascinating island which has had a special allure for centuries. Two roman emperors, Augustus and Tiberius, lived there. Off to our right we could see the Faraglioni rocks where, it is said, Tiberius and Caligula staked out prisoners on the rocks and left them to die in agony.
We could see the many caves carved into and sometimes right through the rocks by the sea, as well as a couple of small boats out for the early fish. The island's gorgeous landscape, rugged hills, mild climate and luxuriant vegetation have long fascinated writers, musicians, artists, and poets. We had "experienced" the allure of Capri in several books and movies, and were anxious to see it for ourselves. It was a beautiful sight as the Star Clipper approached from the south and then circled the entire island. Was that a goatherd and his flock way up on that hill?
Once around the island, we sailed for Sorrento, where we dropped anchor, took a tender into Sorrento, and then another boat out to Marina Piccola, one of Capri's harbors. But by now the blue sky was gone, obscured by ominous clouds. And sure enough, as we rode in a bus up the steep hill to the town of Anacapri, the rains came. The place was mobbed with tourists. We were in clumps. Each clump had a tour guide who moved his/her clump from place to place. There was hardly room in the square for all the clumps, and certainly not room on the narrow walkways. Our clump was herded to the Villa San Michelle, built in the late 19th century for Axel Munthe, a Swedish doctor/writer who lived there until 1949. Lots of antiques and nice views, but not big enough for soggy clumps. Al had the good sense to stay out in the rain rather than moving shoulder to shoulder within the clump. When I emerged from the villa, dry but weary, I found him outside, wet but relaxed.
Because of the rain, the chairlift up to Mount Solaro and its spectacular views was not operating. Nothing to do but wait until our clump could be bused back down. While we waited 45 minutes for a bus, Al found a computer in a newspaper shop and checked our email. Once we got down to the town of Capri, we had a pizza and then took the ferry back to Sorrento.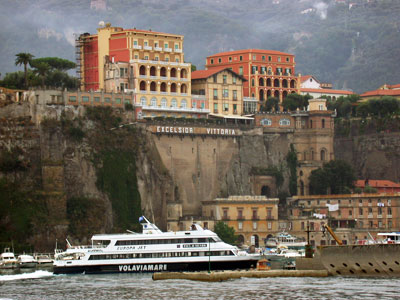 Sorrento Harbor
The rain had pretty much let up as we set out to explore Sorrento. The old town sits high on cliffs overlooking the harbor and the Gulf of Naples. You can reach it by a long winding road or a more direct climb up a long stone stairway. Having spent two weeks hiking up and down hills, we chose the steps.
Sorrento was mellow. Yes, there were tourists, but no clumps. The town was especially nice after dark. Less crowded. Many fascinating shops on narrow streets still open. One that featured gorgeous inlaid wood furniture was especially nice. Reminded me of the inlaid tables made by Paul Eakin, my grandfather. How relaxing it was to just walk quietly around Sorrento after the chaos of Capri.
During our four weeks, we noticed that early morning and late afternoon or evening were the best times to be in the smaller towns. Before the tour busses arrive or after the tourists have returned to their hotels or ships. If one were staying in a hotel on Capri and could see it during these hours, perhaps it would be worth seeing again.