Historic Sites and Points of Interest in Kane County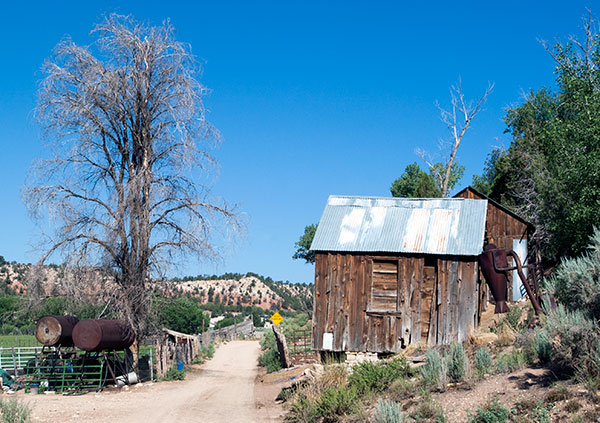 Long Valley
18 July 2008
(Click Photo To Zoom)
Kane County is located in the Colorado Plateau high desert. The eastern border of the county is the Colorado River and Lake Powell. The southern boundary is the state of Arizona.
The Anasazi lived here in prehistoric times. The Southern Paiutes lived here in historic times.
Several towns, including Kanab, were first settled in the 1860s, then abandoned. Kanab was resettled in 1870 at the request of Brigham Young. Until the 1920s, most of the county's residents were farmers or ranchers.
In the 1920s, the Parry brothers of Kanab developed lodging, food, and other services for film crews shooting cowboy movies in the area. By the 1930s Kanab was called Little Hollywood because so many movies were made there. Kanab also become a tourist center for visitors to Bryce Canyon, Zion and Grand Canyon National Parks.
Kanab is still a touristic center. Movies, not so much now.
Kane County is severely conservative. The last Democratic Party candidate for President of the United States to carry Kane County was Woodrow Wilson. In 1916.
| Name | Address | City | Year | Authority | ID | Sort Address | Sort Name |
| --- | --- | --- | --- | --- | --- | --- | --- |
| Bowman-Chamberlain House | 14 East 100 South | Kanab | | National | 1975001811 | | Bowman-Chamberlain House |
| Hole-In-The-Rock | Hole-in-the-Rock Road (4WD) at Lake Powell | Glen Canyon National Recreation Area | | National | 1982004792 | | Hole-In-The-Rock |
| Valley School | North 00 East West Street | Orderville | | National | 1985000807 | | Valley School |
| Mt. Carmel School and Church | Highway 89 Between Muddy Creek Road and Stevens Lane | Mt. Carmel | | National | 1987002061 | | Mt. Carmel School and Church |
| Kanab Library | 600 South 100 East | Kanab | | National | 1995001067 | | Kanab Library |
| Stewart-Woolley House | 106 West 100 North | Kanab | | National | 2001000314 | | Stewart-Woolley House |
| Johnson House | 54 South Main Street | Kanab | | National | 2001000315 | | Johnson House |
| Rider-Pugh House | 17 West 100 South | Kanab | | National | 2001000316 | | Rider-Pugh House |
| Dixon House and Studio | Highway 89 at Mile Marker 84 | Mt. Carmel | | National | 2001001450 | | Dixon House and Studio |
| Parry Lodge | 89 East Center Street | Kanab | | National | 2002001734 | | Parry Lodge |
| Kanab Hotel and Cafe | 19 West Center Street | Kanab | | National | 2003000152 | | Kanab Hotel and Cafe |
| Kanab (Union Pacific) Lodge | 86 South 200 West | Kanab | | National | 2003000153 | | Kanab (Union Pacific) Lodge |