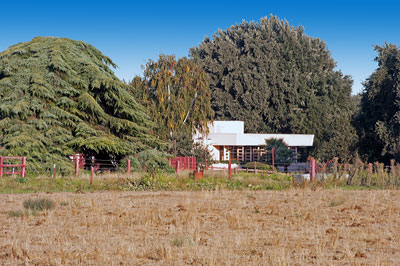 The Walton House House Stands Away From the Road Hidden in a Grove of Large Trees
28 October 2012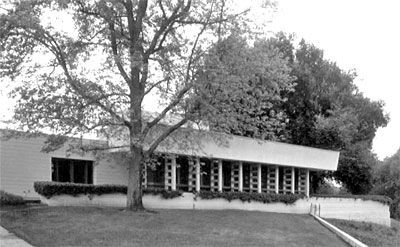 One of the Photographs Submitted with the NRHP Nomination
(Click Photos to Zoom)
National Register #06001133
Robert and Mary Walton House
417 Hogue Drive
Modesto
Built 1959-1961
The Walton House, which is one of a number of Usonian style residences designed between 1936 and 1959 by Frank Lloyd Wright, exemplifies all the major characteristics that define the Usonian style. It is a modest house with strongly horizontal lines that is integrated closely with its environment and which is organized to facilitate an informal, family oriented life-style.
The Walton House is also is an example of Wright's particular expression of the Modernist movement, a movement that gained wide acceptance in the 1940s and 1950s. The Walton House exemplifies the innovations in construction and technology that Wright sought to introduce into home design with the object of significantly reducing costs for the average buyer. Among those found in the Walton House are the use of concrete flooring which extends beyond the envelope of the house onto the exterior terraces, concrete block construction, use of steel structural materials, and the organization of the building on a geometric grid system.
The Usonian house has been widely recognized as one of Wright's most important design innovations and one of the major achievements of his long career. Each Usonian house was an individual expression of an architectural philosophy regarding how the American family should live and be housed. The Walton House aptly illustrates Wright's conviction that small, economical houses could be realized through the use of beautiful natural materials, careful spatial organization, and simplicity of design.
Excerpted from the NRHP nomination dated 14 December 2006.