California Historical Landmark 347
Knights Ferry Historic Marker
State Route 108
Knights Ferry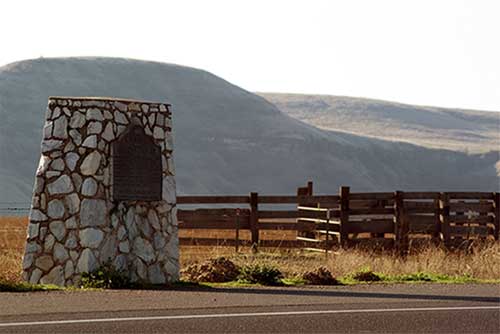 Highway 120 West of Town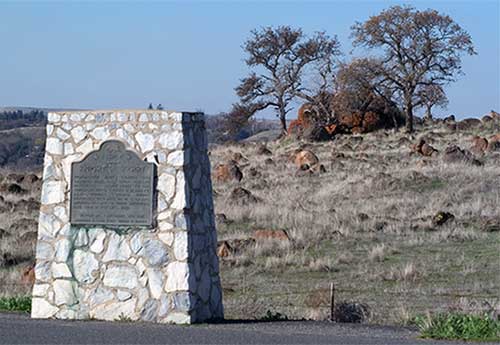 Highway 120 East of Town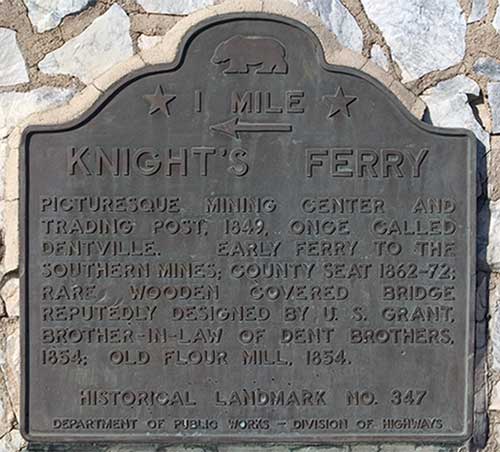 The Commemorative Plaque
All Photos 17 December 2006
(Click Photos to Zoom)
1 Mile
Knights Ferry
Picturesque mining center and trading post, 1849, once called Dentville. Early ferry to the southern mines; county seat 1862-72; rare wooden covered bridge reputedly designed by U. S. Grant, brother-in-law of the Dent brothers, 1854; old flour mill, 1854.
Historical Landmark No. 347
Department of Public Works - Division of Highways

Knights Ferry has two copies of its California Bear Flag plaque on opposite sides of State Route 108/120 where the Kennedy Road loop meets the highway. This positioning solves the photographic challenge of the sun's tendency to hang directly behind and above roadside markers.
For photographs of the Knights Ferry Covered Bridge and other historic structures, see National Register Listing #75000490, Knights Ferry Historic District.