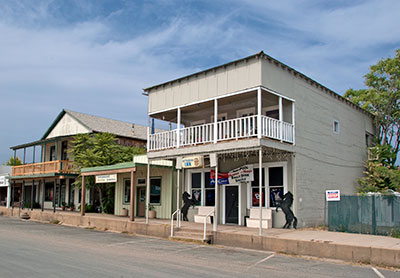 Cottonwood Inn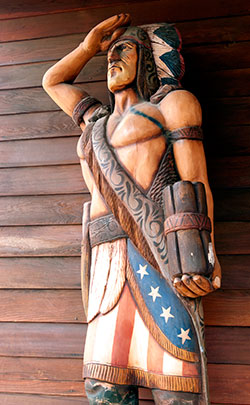 Cigar Store Indian
National Register #73000456
Cottonwood Historic District
Off Highway 99
Cottonwood
Founded 1852
In 1852, Cottonwood was founded on the south side of Cottonwood Creek as a store and ferry crossing for miners and settlers where one could buy a plug of tobacco and get a bite to eat. Legend has it that Capt. John C. Fremont named the creek in 1846 for the numerous cottonwood trees in the vicinity.
In 1872, the Southern Pacific Railroad built a depot on its new line north to Oregon.
Today, Front Street looks much as it did in 1872. The railroad depot faces west on the street. A number of 19th century brick buildings stand on each side of the street.
Front Street itself is very wide, a fact occasioned by the need for teamsters in the last decades of the 19th and first decades of the 20th century to turn around their wagons loaded with lumber or farm goods. During those days Cottonwood was a leading northern California shipping point for lumber and cattle. Hitching rings are still available on high curbs on each side of the street.
Adapted from the NRHP nomination submitted in 1973.