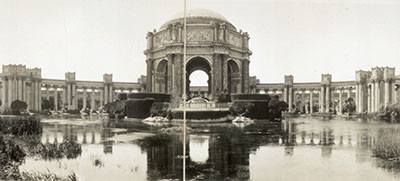 Palace of Fine Arts in 1919
Photo by James David Givens from Library of Congress Collection
Source:
Wikipedia Commons
(Click Image to Zoom)
San Francisco Landmark #88
Palace of Fine Arts
3301 Lyon Street at Doyle Drive
Marina
Built 1915
Renovated 1967
Renovated 2005
The Palace of Fine Arts, designed by Bernard Maybeck, was the thematic focus of the Panama-Pacific International Exposition.
A great rotunda of a Roman Classical character, with Corinthian columns and carefully-detailed cornices, was placed on the center of two out-curving colonnades of similar design. Behind it, a curved shed provided a setting for the fair's fine arts exhibits. The whole ensemble was given Baroque grandeur by its scale and focused organization: an artificial lake added atmosphere and foreground reflections.
The Palace met with such success, that after the fair was over, nobody had the heart to destroy it. Maybeck thought its "staff" sheathing might last indefinitely in the mild San Francisco climate. But by the 1940's chunks were beginning to fall from the structure like leaves from autumn elms.
Because the Palace of Fine Arts had dominated the city's northwestern skyline for so long, and because of its sentimental associations for so many, a number of proposals to restore Maybeck's triumph were advanced. The State of California offered two million dollars for restoration if the city would match the sum, but San Francisco voters refused. Then Walter Johnson, a nostalgic San Francisco financier, offered the city two and a quarter million dollars, if other sources would match his gift. This time the money was raised.
From Here Today: San Francisco's Architectural Heritage, Chronicle Books, Fifth Printing, November 1969