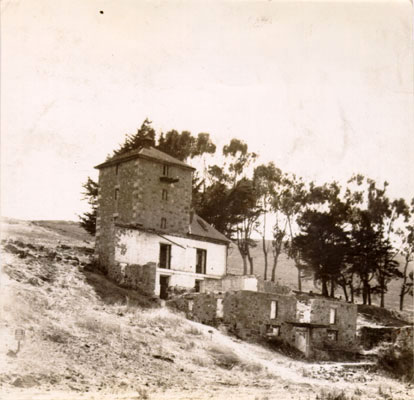 Ruins of the Albion Ale and Porter Brewery
Undated Photograph
San Francisco Public Library
(Larger Image Not Available)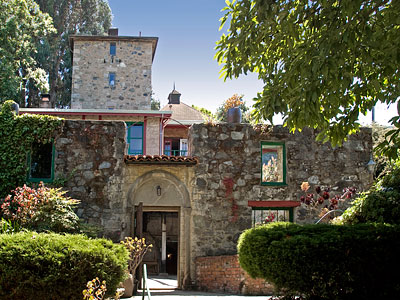 9 June 2005
(Click Photo to Zoom)
San Francisco Landmark #60
Hunters Point Springs-Albion Brewery
881 Innes Avenue at India Basin Shoreline Park
Hunters Point
Built 1870
1870
John Hamlin Burnell purchases property on the edge of San Francisco Bay to obtain rights to the natural springs which run underneath. He builds the Albion Ale and Porter Brewing Company in a traditional Norman style using stones which may have been recycled from ships' ballast or may have been quarried locally. Later he builds the Albion Water Co. next door to sell bottled spring water.
1919
The Eighteenth Amendment to the United States Constitution prohibits "the manufacture, sale, or transportation of intoxicating liquors within...the United States," thus destroying Albion Ale and Porter Brewing Company after its successful run of almost fifty years.
The brewery structures fall into ruin.
1933
Adrien Alexander Voisin, a sculptor, purchases the property and spends more than twenty years restoring and remodeling it for his studio and home.
2005
The property remains a private residence and studio.