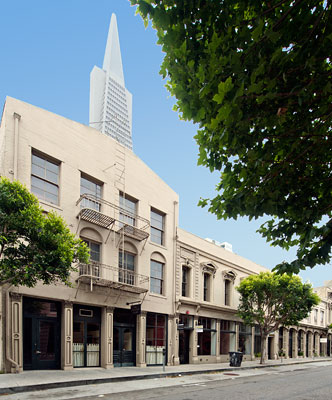 Ghirardelli Building (Right) and
Annex (Left)
5 July 2010
(Click Photo to Zoom)
San Francisco Landmark #15
Ghirardelli Building
415-431 Jackson Street
Built 1853
In 1853, Domingo Ghirardelli opened a chocolate factory on the first floor of this Italianate building. He resided with his family on the second floor, an arrangement typical for San Francisco businessmen of this period when no stigma was attached to living above the family business.
As his company thrived, Signor Ghirardelli purchased the building next door at 407 Jackson. In 1894, he moved his business to a large waterfront factory which today bears his name and sells his products. (See San Francisco Landmark 30, Ghirardelli Square.)
The Ghirardelli Building is in the Jackson Square Historic District.