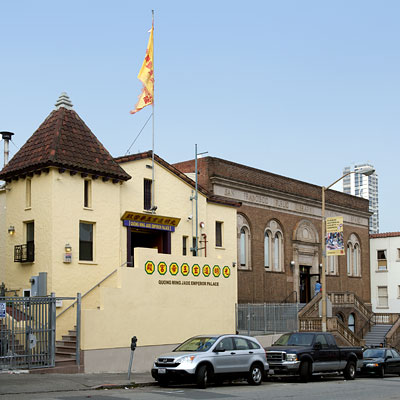 Quong Ming Jade Emperor Palace and
Chinatown Carnegie Library
31 January 2012
(Click Photo to Zoom)
National Register #94000925
San Francisco Korean United Methodist Church
1123 Powell Street
Built 1928
The Korean United Methodist Church....is the first Korean Church to be constructed in the United States. It was built in 1928 especially for and by Koreans. The site was purchased for $18,000 with funds raised from Korean laborers. This site served as the center of Korean patriotic activities for its first 15 years when the Koreans' primary focus was to gain their homeland independence from Japanese occupation (1905-1945). Until the 1960s, the church was the only active social, employment and education center and a means of cultural identification for Koreans in San Francisco.
Quoted from A Historical Profile of San Francisco's Korean Community Development by Youn-Cha Shin Chey, Ph.D., September 25, 2002.

The building at 1123 Powell Street which used to house the San Francisco Korean United Methodist Church is now home to Quong Ming Jade Emperor Palace:
owned and operated by the Quong Ming Buddhism and Taoism Society, which purchased the building in 1995 from the Korean Baptist [sic] Church. Inside, it's filled with golden Buddhas, Chinese gods, burning candles and incense, and altars stacked with oranges; the ceiling is a forest of bright red banners and lanterns.