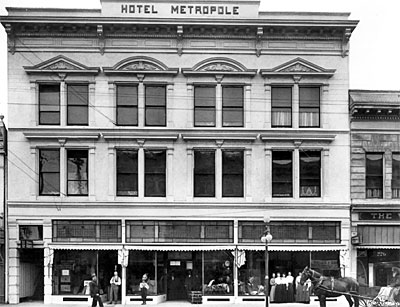 1908 Photograph from the
NRHP Nomination Form
(Click Photo to Zoom)
National Register #79000553
Hotel Metropole
1111 Pacific Avenue
Santa Cruz
Built 1908
Demolished 1989
The Hotel Metropole was constructed in 1908 for Duncan McPherson by contractor Charles Kay. McPherson was the editor and publisher of the newspaper, the Santa Cruz Sentinel, and owner and developer of several parcels of significant real estate on Pacific Avenue.
In addition to the hotel, which offered forty-eight "furnished rooms for transient and permanent guests" at fifty cents per day, the building also housed a millinery, the offices of C. W. Waldron, a partner of McPherson's, and the C.O.D. Grocery. The hotel changed names twice, to the Hotel Al Rose in 1935 and to the Hotel Drake in 1946, and was occupied continuously until 1961.
The ground floor commercial space was consolidated in the thirties for the use of the National Dollar department store, which operated until 1976. When the property was added to the National Register in 1979, it housed Plaza Books.
The Hotel Metropole was a unique Santa Cruz example of turn-of-the-century commercial architecture in the late Italianate style in which pressed-metal ornamentation replaced the more costly and fancy Victorian plaster work it often copied. The four pediments atop the third-story windows, and the acanthus design cornices were particularly handsome.
Excerpted from the NRHP Nomination.

The building was demolished after being damaged by the 1989 Loma Prieta Earthquake.