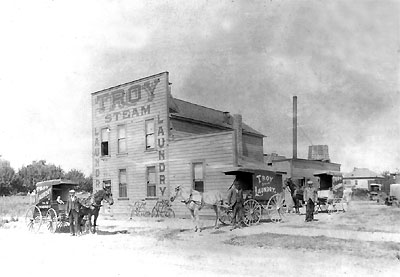 Photographed c.1896
National Register #82002268
Troy Laundry
722 Almaden Avenue
San Jose
Built 1895
Demolished c.1995
When the Troy Laundry was nominated for the National Register of Historic Places in 1982, it was a well-preserved example of late nineteenth century false-front wooden industrial architecture which had operated continuously at this location from 1896 to 1979.
The Troy Steam Laundry completed with a number of San Jose laundries, including the Red Star, Temple, Consolidated, Diamond, Individual, and R&W Wet Wash.
Its commercial customers were the leading concerns of San Jose: the Montgomery Hotel, Vendom Hotel, Costa Hotel, San Jose State University, many restaurants and the sporting houses. Laundry was shipped from distant places, including Lick Observatory, New Almaden Mines, Watsonville, Gilroy, and Stanford University, and picked up by horse and wagons, and later locally designed trucks at the Southern Pacific Depot in San Jose.
Excerpted from the NRHP nomination submitted in 1982.

The Troy Laundry was demolished around 1995 and replaced by an apartment building.