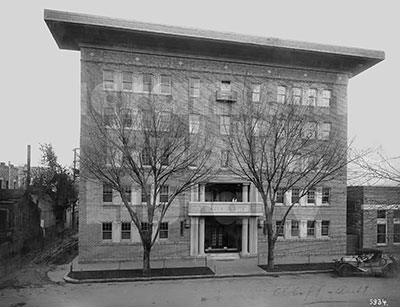 1925 Photograph
Courtesy
Sacramento Room Digitization Project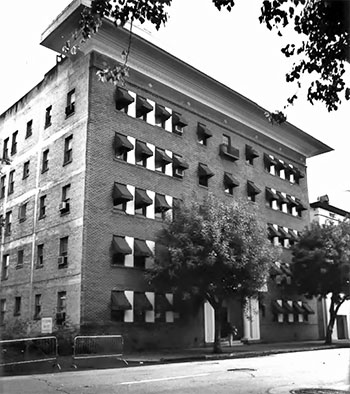 1990 Photograph Submitted with NRHP Nomination
National Register #90001386
Merrium Apartments
1017 14th Street
Sacramento
Built 1913
Razed 1991
Built in 1913 to a design by Clarence Cecil Cuff, the Merrium Apartments stand as the premier expression of Prairie-style, Sullivanesque multi-residential architecture in Sacramento.
The building is also outstanding as an early example of reinforced concrete frame apartment building construction, selected for its fireproof qualities at a time when reinforced concrete was being developed and accepted by building officials after lessons learned from disastrous fires in Baltimore (1904) and San Francisco (1906).
A prominent local attorney, Chauncey H. Dunn, commissioned Cuff to design a luxury apartment house of fireproof construction. Dunn, who named the building in honor of his wife, could not have made a better choice for his architect.
Excerpted from the NRHP nomination submitted in 1990.

To facilitate the expansion of the Sacramento Convention Center, part of 14th Street was closed and the Merrium Apartments were razed on September 4, 1991.
The building was listed on National Register of Historic Places in 1990 in a failed attempt to save it.