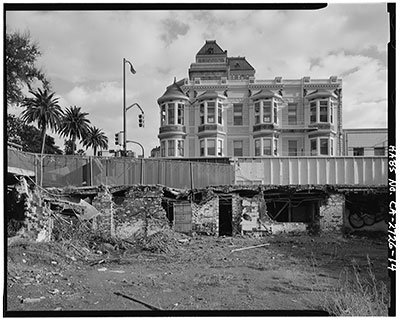 800 Block of J Street in 2001
Ruhstaller Building
in Background
Courtesy Historic American Buildings Survey (HABS)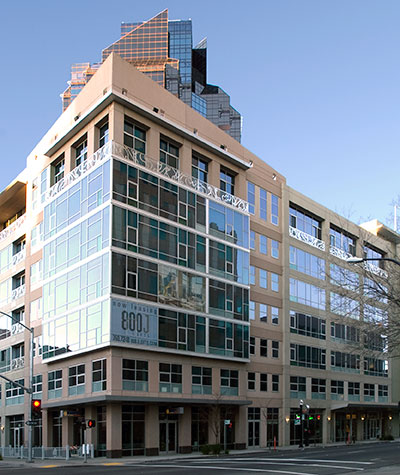 800 Block of J Street
3 January 2009


Coolot Company Building in 2001
Photo Courtesy HABS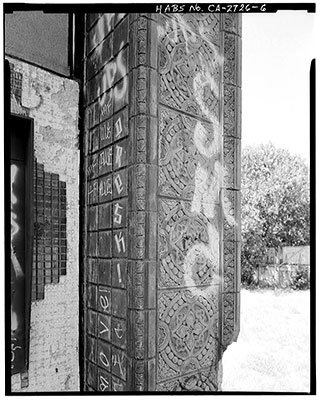 Ernest Batchelder Tiles in 2001
Photo Courtesy HABS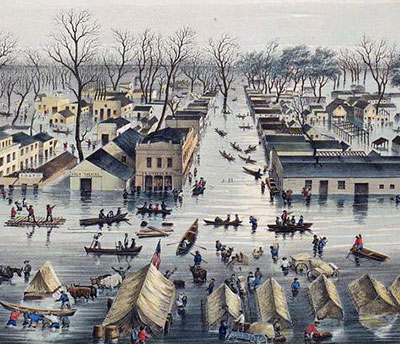 View of Sacramento City
During the Great Inundation in January 1850
Lithograph by Geo. W. Casilear & Henry Bainbridge
Courtesy Bancroft Library
University of California at Berkeley
(Click Images To Zoom)
National Register #78000742
Coolot Company Building
812 J Street
Sacramento
Built 1861
Demolished
Leland Stanford constructed the brick Coolot Company Building around 1861 and sold it to Anthony Coolot for use as a variety store.
In those days Sacramento was repeatedly inundated by the Sacramento and American Rivers. Shortly after the Coolot building was completed, the Sacramento leaders developed an audacious plan to raise the level of the city by ten to twelve feet. Building owners had the choice of jacking up their bundlings or adding additional stories. The original Coolot became a basement with a new building on top of it.
The building was listed on the National Register in 1978 primarily because of the decorative arts and crafts tiles made by Ernest Batchelder and added to the façade in the 1920's.
By the end of the 20th Century, the much remodeled Coolot Building had been renamed the Comstock Building and all of its neighbors had been demolished. The demolition and excavation revealed the old underground sidewalks.
In 2002, the city approved a construction project to cover the block with residential lofts. The original architectural plans incorporated the remnants of the Coolot Building in the new building, but a fire soon destroyed what was left of the Coolot Building, and a subsequent sidewalk collapse caused further damage to the old subterranean city.
References: Excavating Sacramento and The Past Below from Sacramento News and Review; Metro Place tests market for mixed use downtown from Sacramento Business Journal; Historic American Buildings Sirvey