California Historical Landmark 525
Sutter's Fort
27th and L Streets
Sacramento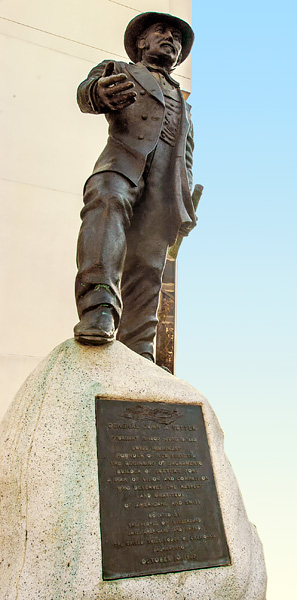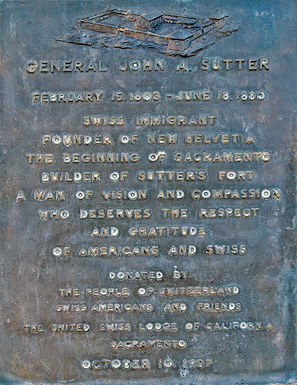 3 January 2009
(Click Photo to Zoom)
General John A. Sutter
February 15, 1803 - June 18, 1880
Swiss Immigrant
Founder of New Helvetia the Beginning of Sacramento
A Man of Vision and Compassion Who Deserves the Respect and Gratitude of Americans and Swiss
Donated by the People of Switzerland
Swiss Americans and Friends
The United Swiss Lodge of California
Sacramento

John Sutter Canceled by the Hospital He Founded
"A statue of John Sutter, a colonizer of California during the Gold Rush and the founder of Sutter's Fort, was taken down Monday at Sutter Medical Center amid complaints of racism, according to officials.
"Last week, as monuments were being removed across the globe — sometimes forcibly — the statue of Sutter was vandalized with red paint, according to reports....
"The 8-foot-tall statue was created in 1987...."
Los Angeles Times, 16 June 2020

"This marker, the statue and time capsule were removed during the iconoclasm of 2020 and returned to the Helvetia Verein Swiss society. In February 2021, Helvetia Verein presented the items to Georgetown Parlor #91, Native Sons of the Golden West, for display at the Native Sons' Memorial Park and Cemetery. Work will commence in the spring to construct a base and install the statue etc., after which they will be formally rededicated and displayed with pride."
Source: hmdb.org