California Historical Landmark 402
Michigan Bluff
Michigan Bluff and Gorman Ranch Roads
Michigan Bluff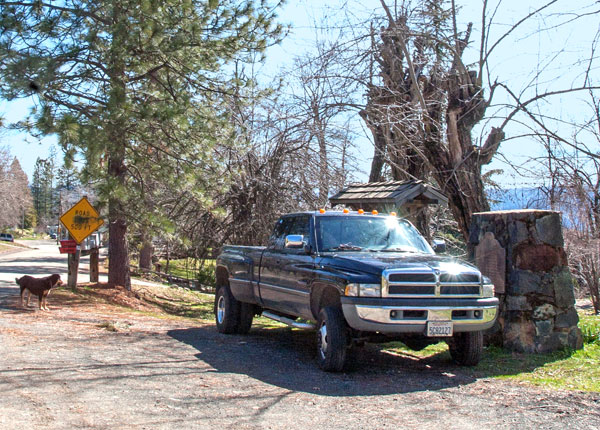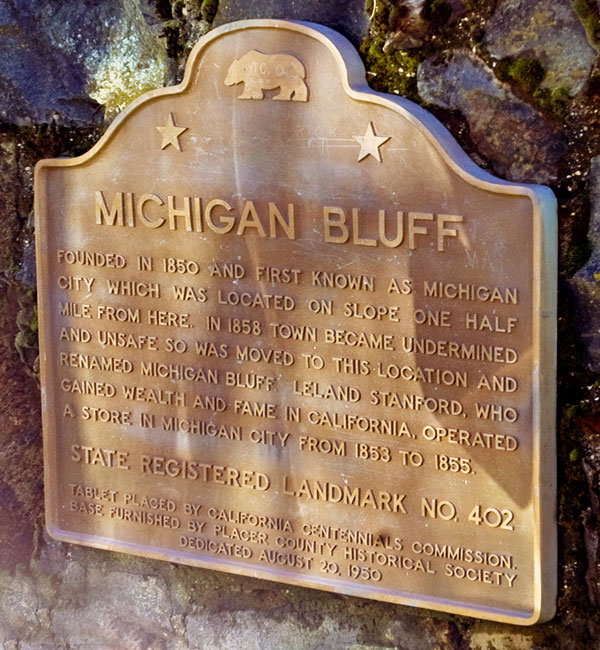 26 February 2008
(Click Photos to Zoom)
Michigan Bluff
Founded in 1850 and first known as Michigan City which was located on slope one half mile from here. In 1858 town became undermined and unsafe so was moved to this location and renamed Michigan Bluff. Leland Stanford, who gained wealth and fame in California, operated a store in Michigan City from 1853 to 1855.
State Registered Landmark No. 402
Tablet Placed by California Centennials Commission
Base Furnished by Placer County Historical Society
Dedicated August 20, 1950

Michigan Bluff lies at the very end of the trail. The road ends in five hundred feet.
There is only one other vehicle here, but it is very large and parked smack in front of the plaque. With careful maneuvering, we manage a foreshortened, but readable, snapshot.
The neighborhood dog, unlike most backcountry mutts, is docile.