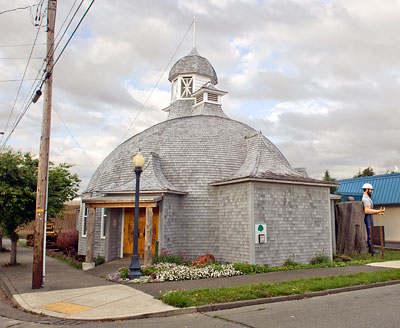 National Register #79002050
Reorganized Church of Latter Day Saints
7th and Maple Streets
Myrtle Point
Built 1910
From coquillevalley.org:
The unusual appearance of the Museum's dome-shaped building, now owned by the City of Myrtle Point, has made it a landmark in Myrtle Point from the time it was erected on the corner of Maple and 7th Streets in 1910. Actually designed and built by members of the congregation of the Reorganized Church of Latter Day Saints as their sanctuary, the men did the framing and shingling, and the women did the lathing. The structure was formally dedicated July 31, 1910. The form of the church was conceived by Samuel Giles, the son of Daniel Giles who arrived in Coos County in 1853 when he was sixteen years old. Samuel, who operated a brick yard with his father, had been in Salt Lake City, Utah, and he believed he could pattern the structure after the Mormon Tabernacle with its extraordinary acoustical properties.
Unfortunately, the change in proportions and radical reduction in size to an auditorium about forty-five feet in diameter and twenty-four feet in height up to the center skylight, resulted in acoustical chaos. Reverberations from the walls caused a speaker's voice to be unheard from the front seats while it would come in loud and clear from the back seats. Quiet comments from the room were, and still are, readily heard on the opposite side. False ceilings installed at varying heights by subsequent owners modified but never corrected the problem. Despite the difficulty with acoustics, the congregation continued to use the building until November 1927 when the Four Square Gospel Church, which had been organized the previous summer, purchased the property with the announced intention of using the church "until the end of the world." Mrs. A. T. Train, the leader of the group, expected that to be in a few short years. Mrs. Train ordered that the first false ceiling, made of burlap, be hung about sixteen feet from the floor but made no more alterations to the building. The Four Square Gospel congregation was never large and in time ceased to function. Then various organizations--the American Legion among others-began to use the building for meetings.