Nevada Historical Marker 253
Emigrant-Donner Camp
Rio Poco Road and Creekside Circle
Reno
Year 1846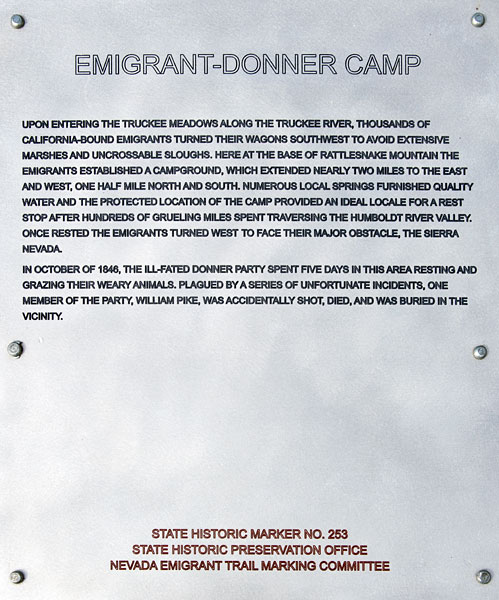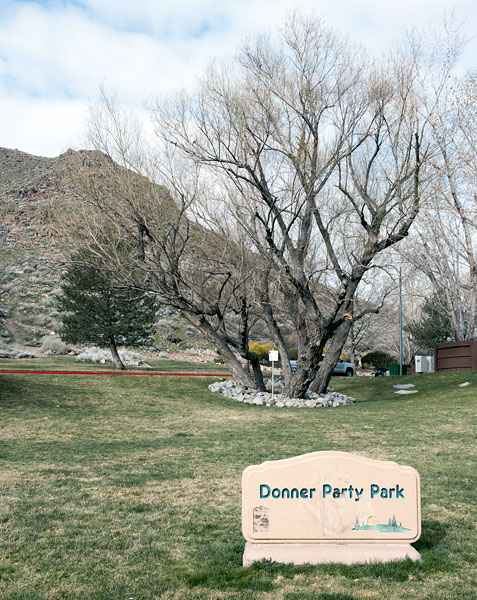 Rattlesnake Mountain
15 March 2016
(Click Photos to Zoom)
Emigrant-Donner Camp
Upon entering the Truckee Meadows along the Truckee River, thousands of California-bound emigrants turned their wagons southwest to avoid extensive marshes and uncrossable sloughs. Here at the base of Rattlesnake Mountain the emigrants established a campground, which extended nearly two miles to the east and west, one half mile north and south. Numerous local springs furnished quality water and the protected location of the camp provided an ideal locale for a rest stop after hundreds of grueling miles spent traversing the Humboldt River Valley. Once rested the emigrants turned west to face their last major obstacle, the Sierra Nevada.
In October of 1846, the ill-fated Donner Party spent five days in this area resting and grazing their weary animals. Plagued by a series of unfortunate incidents one member of the party, William Pike, was accidentally shot, died, and was buried in the vicinity.
State Historic Marker No. 253
State Historic Preservation Office
Nevada Emigrant Trail Marking Committee

The canary yellow T-marker is puzzling. From a distance, I thought that it was a Trails West marker, although I have never seen a Trails West marker painted bright canary yellow. When I looked closer, I saw a Bureau of Land Management medallion indicating that the BLM had erected the marker in 1969, one year before Trails West was founded. The location of the marker is specified using the township and range system.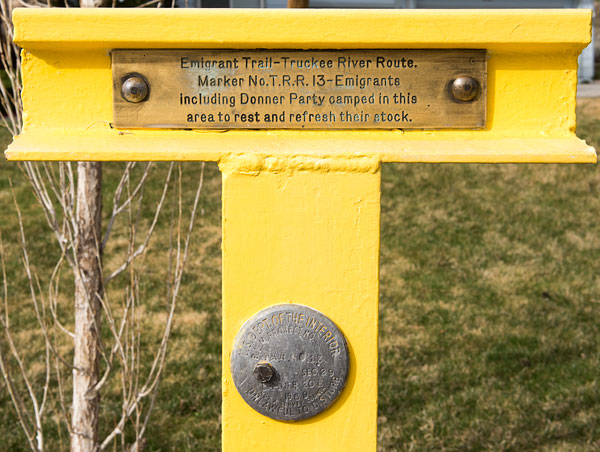 Emigrant Trail - Truckee River Route
Marker No. T.R.R. 13
Emigrants including Donner Party camped in this area to rest and refresh their stock.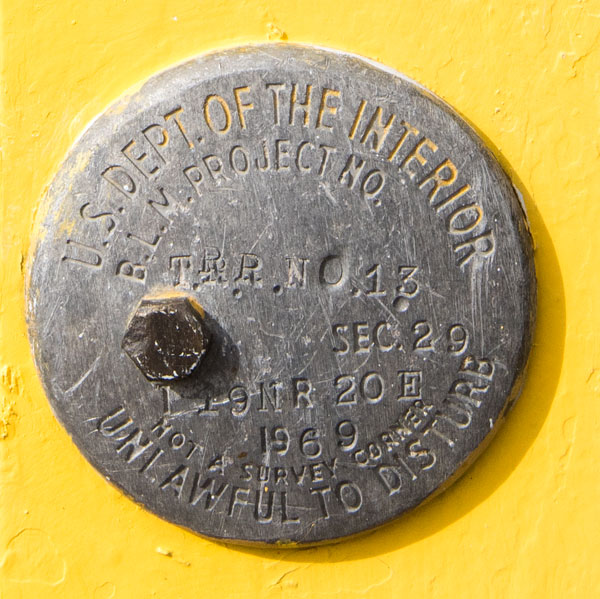 U. S. Department of the Interior
B.L.M. Project No. T.R.R. No. 13
Sec. 29 T19N R20E
1969
Not a Survey Corner
Unlawful to Disturb