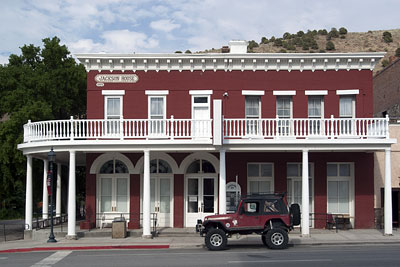 Jackson House
Built in 1877 as the famous Jackson House. Gutted in the 1880 fire and rebuilt. Advertised as the only fire-proof hotel in Nevada. In 1907 name changed to Brown Hotel. In 1981, restored as a historical building and once again called the Jackson House. Now operates as bar, restaurant and hotel.
(Source: Eureka Self-Guiding Tour)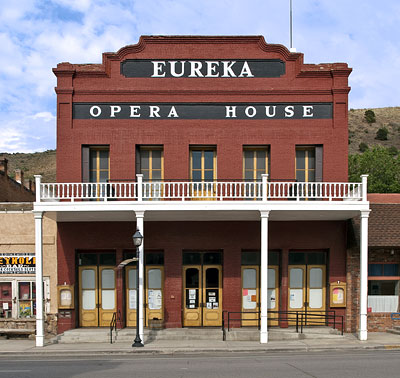 Opera House
This imposing building was started in 1879 as a Labor Union Hall. The Labor Union went on strike during construction and ran out of funds. The incomplete building was sold, and completed by the new owners as an Opera House. The floor is made of a special shock absorbing material as a dance area. It is said that you could dance all night without getting sore feet. There is a horseshoe shaped balcony over the main floor. The seats on both floors were of the type known now as tavern chairs, very much like a captains chair. One man was employed full time to keep the chairs in repair. The stage scenery was hand painted in Italy. They were made of six tall canvases on wooden frames and hinged together. Many of the famous artists of the 1800's were seen here, among them Jenny Lind and Frank Boothe.
(Source: NRHP Nomination Form)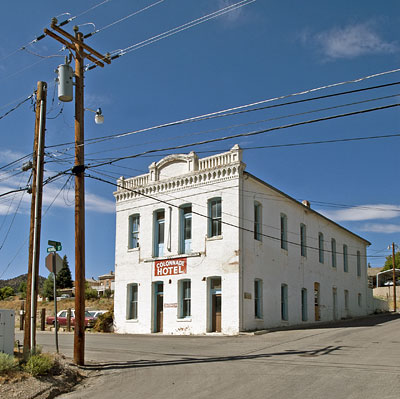 Colonnade Hotel
This large brick building started as the home of the Italian Benevolent Society. Upstairs there were meeting rooms and the downstairs was a home. This building was connected to the Eureka Hotel a cross the street by a twenty foot high bricked tunnel. The tunnel's use is unknown.
(Source: NRHP Nomination Form)
All Photos 16 July 2008
(Click Photos to Zoom)
National Register #73001078
Eureka Historic District
US Route 50 (Loneliest Road in America)
Eureka
Eureka survives in a nearly perfect state of preservation.
The late 19th century in the western United States had a very different flavor from the rest of the world. A lot of that rich and roaring time is preserved in present day Eureka. History can come alive to those who get to see the inside of the Eureka Opera House. The feeling of stomping, cheering miners in the horseshoe shaped balcony can still be felt. One can well imagine the everyday life, the drudgery and excitement of the l880's. The ore strikes, the fires and floods, the gunfights, racial prejudices, masked balls,- water shortages, the homes made of flattened tin cans, mortarless hand hewn stone, or of redwood brought from the California coast, these things were real in Eureka and left a mark. Eureka is significant because here history was, and is, alive.
The Eureka Historic District contains eighteen buildings situated on 9,640 acres (source NRHP website).
The contributing buildings include:
Smelter Sites
Sadler House
Nob Hill Fire House
Colonnade Hotel
Catholic Church
Presbyterian Church
Graveyards
Zadow House
Ruined Church
Stone Warehouse
Eureka Fountain Building
Paxton and Co. Bank
Brick Stores
Jackson House
Opera House