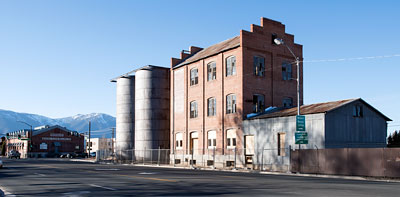 Minden Wool Warehouse
and Minden Flour Milling Company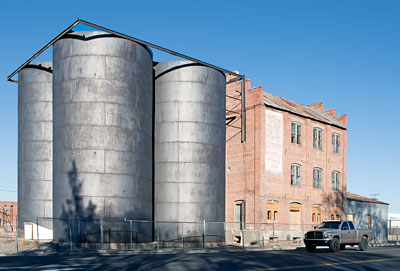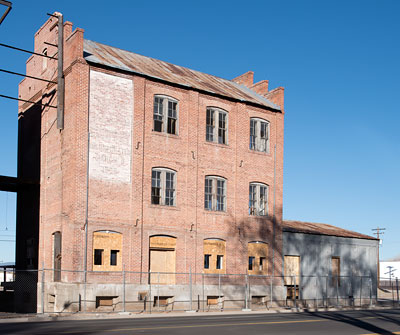 1 March 2016
(Click Photo to Zoom)
National Register #78001721
Minden Flour Milling Company
6th Street and Highway 395
Minden
Built 1906
This mill was the last, largest, and only remaining of five flour mills erected in the Carson Valley from 1854 to 1906. The mill had an initial production capacity of one hundred barrels of flour per day and the adjoining storage silos were able to hold two thousand tons of grain.
Grist mills were among the first manufacturing establishments in this agricultural valley. The mills served emigrants moving along the Carson River Route of the Mormon Trail as well as the settlers who ran the trading stations to accommodate them.
The extension of the Virginia & Truckee Railroad from Carson City to the Carson Valley was strongly influenced by the founders of the Minden Flour Milling Company. The coming of the railroad opened many distant markets, such as San Francisco, to the ranchers and manufacturers in the Valley.
The architectural is transitional from earlier European and American mill structures to typical American industrial buildings of the early 20th century. The mill also reflects the transition from remote country mills built by the local ranchers to the larger mills constructed by railroad companies beside their tracks.
The craftsmanship displays the traditional high quality of northern European and early American carpentry and masonry. This workmanship is rare to nonexistent in later construction. Masonry industrial buildings were replaced in the early 1920s by steel buildings.
Source: Adapted from the NRHP nomination submitted in 1978.