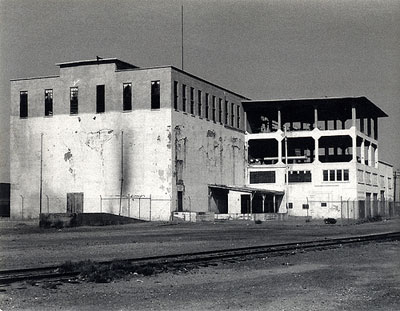 PFE Ice House
Formerly at 612 South Main
Source and Date of Photo Unknown
No Enlargement Available
Courtesy
Classic Las Vegas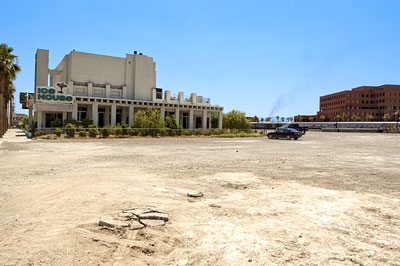 Ice House Lounge
(No Relation) at 650 South Main
21 June 2006
(Click Photo to Zoom)
In the 1980s, Union Pacific officials decided to close the railroad's sprawling downtown yard and move operations out of town, clearing the way for development of the more than 300 acres between Main Street and Interstate 15: Las Vegas Review Journal, 15 June 2003
National Register #87001891
Ice Plant
AKA Ice House
612 South Main Street
Las Vegas
Built 1908
Burned 1988
Prior to the invention of refrigerated train cars, ice was essential in the shipment of perishable food.
The Las Vegas Ice Plant was the only facility of its type on the rail line between Salt Lake City and San Bernardino. In addition to serving the railroad's needs, the Ice Plant also supplied ice to the community of Las Vegas as well as provided cold storage space for perishable products. The plant also generated electricity for the railroad and the town.
The facility was constructed in 1908 by the Pacific Fruit Express Company, a subsidiary of the Union Pacific Railroad. The 1908 plant replaced the Armour Ice Plant which was destroyed by fire.
The new Ice Plant operated continuously between 1908 and 1983.
The Ice Plant represented the most advanced design for buildings of its type in 1908. The unadorned concrete grid system, dropped beams and flat slab construction was developed in France c.1905.
The structure has been a highly visible local landmark since its construction.
Source: NRHP Nomination for Properties Associated With the San Pedro, Los Angeles and Salt Lake Railroad on file at LasVegas.gov.


In 1988 the Old Ice House, which for many years was used to preserve produce shipped from California, was hit by a series of blazes that Las Vegas Fire Department officials ruled were started by vagrants who were using the abandoned building as a flop house.
Preservation groups at the time lobbied to save the 80-year-old structure that had been abandoned in 1983. It had been included in the city's redevelopment plan for preservation.
However, the city issued a permit to the Union Pacific Railroad allowing it to level the site for safety reasons.