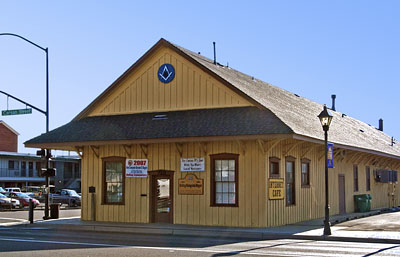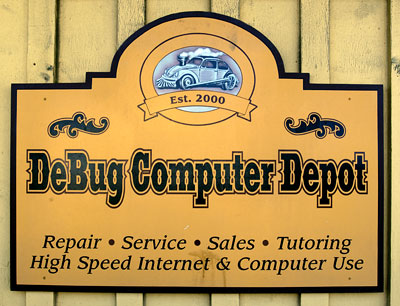 DeBug Computer Depot is located in the old depot. Note the witty LocoBug logo.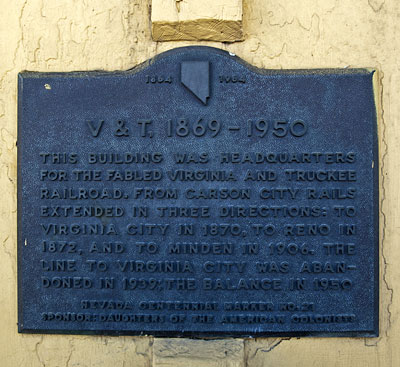 V & T, 1869-1950
This building was headquarters for the fabled Virginia and Truckee Railroad. From Carson City rails extended in three directions: to Virginia City in 1870, to Reno in 1872, and to Minden in 1906. The line to Virginia City was abandoned in 1939; the balance in 1950.
Nevada Centennial Marker No. 21
Sponsor: Daughters of the American Colonists
7 August 2008
(Click Photo to Zoom)
National Register #98001208
Virginia and Truckee Railroad Depot
729 North Carson Street
Carson City
Built 1872
The Virginia & Truckee Railroad Depot is a one-story passenger station that accommodated passenger traffic and administrative offices.
Built between September and December 1872 by a V&TRR construction crew, it is a 31 by 181 foot wood frame building that evokes late 19th-century railroad pattern book architecture.
It remained in use until 1950 when the V&TRR ceased operations. It was eventually bought by the Carson City Freemasons Masonic Lodge #1 in 1952 and has since been in use as a meeting hall and commercial office space.
Source: NRHP Nomination Form