Historic Sites and Points of Interest in McKinley County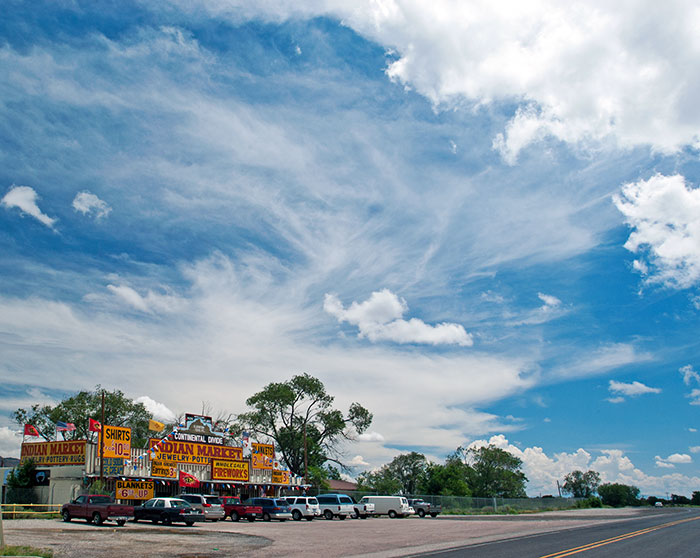 Continental Divide Indian Market on I-40 East of Gallup
5 August 2007
Old Route 66 crosses the continental divide in McKinley County.
The year 2000 census lists the county population as 74,798. Almost three quarters of the people identify themselves as American Indians, primarily Navajo and Zuni, but also other tribes to include Apache, Cherokee, Cheyenne, Chippewa, Choctaw, Creek, Iroquois, Kiowa, Pima, Shoshone, Sioux, Alaskan Athabaskan, Blackfoot, Chickasaw, Comanche, Crow, Osage, Paiute, Potawatomi, Seminole, Tlingit, and Tohono O'Odham.
The county seat is Gallup.
| Name | Address | City | Year | Authority | ID | Sort Address | Sort Name |
| --- | --- | --- | --- | --- | --- | --- | --- |
| Ashcroft-Merrill Historic District | Bloomfield and McNeil Streets Junction | Ramah | | National | 1990001079 | Bloomfield | Ashcroft-Merrill Historic District |
| ATSF Depot | 201 East Highway 66 | Gallup | | National | 1988001694 | Highway 066 E 0201 | ATSF Depot |
| Chief Theater | 228 West Coal Avenue | Gallup | | National | 1987002223 | Coal W 0228 | Chief Theater |
| Cotton Warehouse | 101 North Third Street | Gallup | | National | 1987002226 | Street 03 N 0101 | Cotton Warehouse |
| Drake Hotel | 216 East Highway 66 | Gallup | | National | 1987002218 | Highway 066 E 0218 | Drake Hotel |
| El Morro Theater | 205-209 West Coal Avenue | Gallup | | National | 1987002221 | Coal W 0205 | El Morro Theater |
| El Rancho Hotel | 100 East Highway 66 | Gallup | | National | 1987002222 | Highway 066 E 0100 | El Rancho Hotel |
| Fort Wingate Historic District | Highway 400 | Fort Wingate | | National | 1978003076 | Highway 400 | Fort Wingate Historic District |
| Gallup Post Office | 201 South First Street | Gallup | | National | 1987002228 | Street 01 S 0201 | Gallup Post Office |
| Grand Hotel | 306 West Coal Avenue | Gallup | | National | 1987002217 | Coal W 0306 | Grand Hotel |
| Halona (Zuni) Pueblo | Highway 53 | Zuni | | National | 1975002066 | Highway 053 | Halona (Zuni) Pueblo |
| Harvey Hotel | 408 West Coal Avenue | Gallup | | National | 1987002219 | Coal W 0408 | Harvey Hotel |
| Herman's Garage and Service Station | Highway 122, 150 Yards West of I-40 Exit | Thoreau | | National | 1993001212 | Highway 122 | Herman's Garage and Service Station |
| Lebanon Lodge No. 22 | 106 West Aztec Avenue | Gallup | | National | 1987002225 | Aztec W 0106 | Lebanon Lodge No. 22 |
| Log Cabin Motel (Destroyed by fire in 2004) | 1010 West Highway 66 | Gallup | | National | 1993001213 | Highway 066 W 1010 | Log Cabin Motel (Destroyed by fire in 2004) |
| McKinley County Courthouse | 205-209 West Hill Street | Gallup | | National | 1987000879 | Hill W 0205 | McKinley County Courthouse |
| Old Route 66 (Iyanbito to Rehoboth) | Highway 66, Iyanbito I-40 Interchange to State Police Station Rehoboth | Rehoboth | | National | 1997001397 | Highway 066 | Old Route 66 (Iyanbito to Rehoboth) |
| Old Route 66 (Manuelito to the Arizona Border) | Highway 66, West Side of the Manuelito Grade Separation Southwest to AZ border | Manuelito | | National | 1993001209 | Highway 066 | Old Route 66 (Manuelito to the Arizona Border) |
| Palace Hotel | 236 West Highway 66 | Gallup | | National | 1987002216 | Highway 066 W 0236 | Palace Hotel |
| Redwood Lodge | 907 East Highway 66 | Gallup | | National | 1998000051 | Highway 066 E 0907 | Redwood Lodge |
| Rex Hotel | 300 West Highway 66 | Gallup | | National | 1987002215 | Highway 066 W 0300 | Rex Hotel |
| Southwestern Range and Sheep Breeding Laboratory Historic District | Fort Wingate Work Center, Cibola National Forest | Fort Wingate | | National | 2003000488 | Cibola National Forest | Southwestern Range and Sheep Breeding Laboratory Historic District |
| Vogt Ranch House | Highway 53 and Canyon Road One Mile South of Ramah | Ramah | | National | 1992001819 | Highway 053 | Vogt Ranch House |
| White Cafe | 100 West Highway 66 | Gallup | | National | 1987002212 | Highway 066 W 0100 | White Cafe |