California Historical Landmark 792
Site of Dog Town
Highway 395 (Milepost 69.5)
Dog Town
Three Commemorative Plaques at the Dog Town Site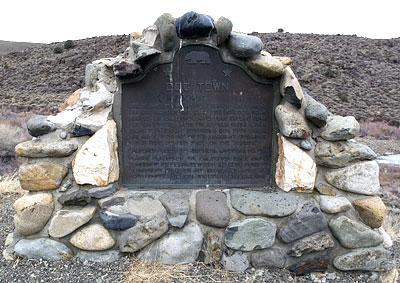 State of California Plaque
Dog Town
1857
Site of the first major gold rush to California's eastern slope of the Sierra Nevada, Dog Town derived its name from a popular miners' term for camps with huts or hovels. Ruins lying close to the cliff bordering Dog Town Creek are all that remain of the makeshift dwellings which formed part of the "diggins."
California Registered Historical Landmark No. 792
Plaque placed by the California State Park Commission in cooperation with the Mono County Department of Parks and Recreation and the Mono County Historical Society, September 11, 1964.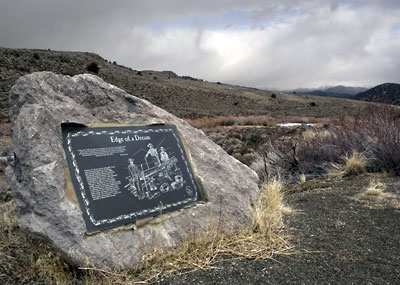 Eastern Sierra Byway Plaque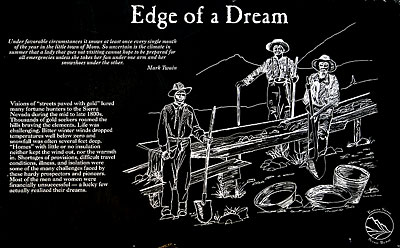 Edge of a Dream
Edge of a Dream
Under favorable circumstances it snows at least once every single month of the year in the little town of Mono. So uncertain is the climate in summer that a lady that goes out visiting cannot hope to be prepared for all emergencies unless she takes her fan under one arm and her snowshoes under the other....Mark Twain
Visions of "streets paved with gold" lured many fortune hunters to the Sierra Nevada during the mid to late 1800s. Thousands of gold seekers roamed the hills braving the elements. Life was challenging. Bitter winter winds dropped temperatures well below zero and snowfall was often several feet deep. "Homes" with little or no insulation neither kept the wind out, nor the warmth in. Shortages of provisions, difficult travel conditions, illness, and isolations were some of the many challenges faced by these hardy prospectors and pioneers. Most of the men and women were financially unsuccessful - a lucky few actually reached their dreams.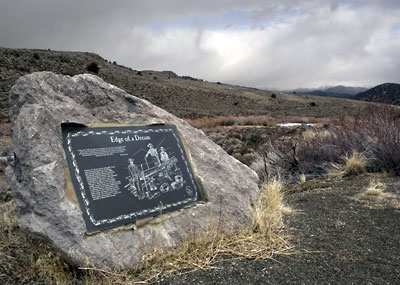 Eastern Sierra Byway Plaque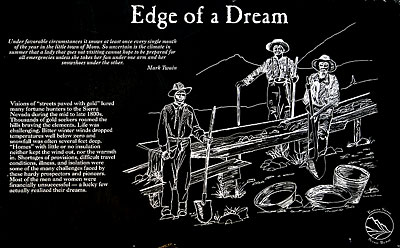 Edge of a Dream
Boom or Bust
"Here today, gone tomorrow" describes
Many hopeful parties have tried to meke a go of the remaining placer deposits.
Though never very profitable, Dogtown was significant as the first placer settlement on the eastern slope of the Sierra,

All photogrsphs were taken on 18 February 2007. Click any photograph to enlarge it.