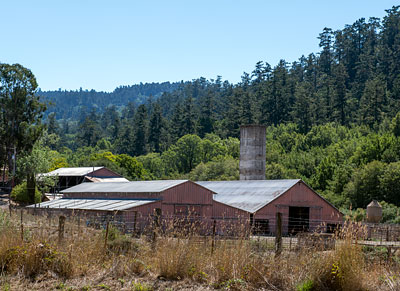 Horse Stables, Old Milking Barn and Corn Silo
The Old Milking Barn replaced a previous barn which had been destroyed by the 1906 earthquake on the San Andreas Fault. In the Olema Valley, the Shoreline Highway runs parallel to the San Andreas Fault which is one thousand feet west of the highway.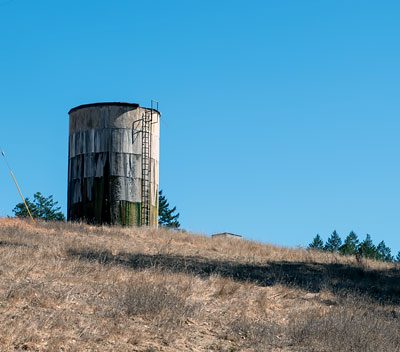 The concrete water storage tank was built in 1935.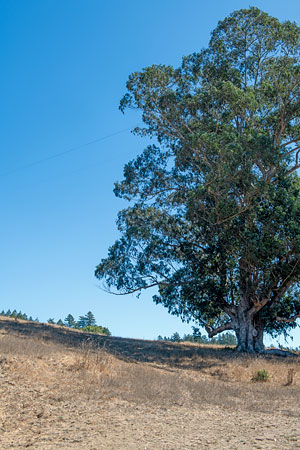 Blue gum eucalyptus (Eucalyptus globulus) were
first imported from Australia to California in 1856.
They were planted as windbreaks and landscape
features on coastal California ranches until the early
20th century when Monterey cypress (Cupressus
macrocarpa) became commercially available.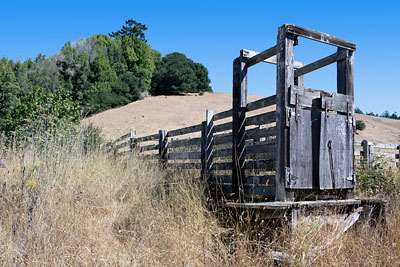 24 September 2020
(Click Photos to Zoom)
Stewart Ranch
8497 Shoreline Highway
Olema Valley
In 1856, brothers Daniel and Nelson Olds, pioneers from Ohio, purchased 4,366 acres in the Olema Valley to establish three homesteads. In 1863, they divided the property with Nelson Olds retaining 850 choice acres that he developed as the Woodside Dairy.
In 1924, Samuel J. Stewart, who had been running dry cows on the Woodside property, bought the property. The Stewart family did not live on the property until 1932 when Samuel's son Boyd moved to the ranch to begin extensive improvements. (Boyd's father, Samuel, had been killed when a horse kicked him.)
Boyd Stewart had attended Stanford University. His wife, Joseffa Conrad Stewart, was an educated woman who managed the finances of the ranch and taught music during the Great Depression to supplement the family income.
In 1945, the Stewart Ranch upgraded its dairy to Grade A with a new sanitary barn. The following year they built a concrete silo for corn storage. Subsequently, they built a large stable for their many horses, a shop, and residences for farm hands.
In 1950, the Stewart's daughter, Jo Ann, graduated from the University of California. She bought Hereford cattle to begin her own beef cattle operation on the family ranch. Her father continued to manage the dairy business. The family began breeding Morgan horses. They continued all three activities - dairy, beef cattle, horse breeding - until the early 1970s. The Stewarts retained the Woodside name for all three operations.
After selling the dairy business in 1972, the Stewarts operated a horse boarding business and raised Black Angus beef cattle.
In 1974, the federal government purchased the property for the Golden Gate National Recreation Area. The Stewart family was allowed to reside on the property.

The Stewart Ranch contributes to the Olema Valley Dairy Ranches Historic District which was listed on the National Register of Historic Places in 2018.