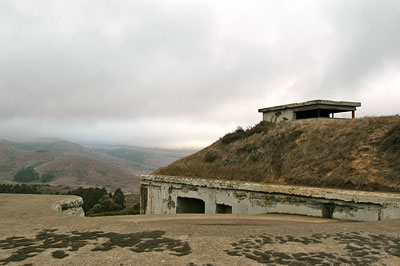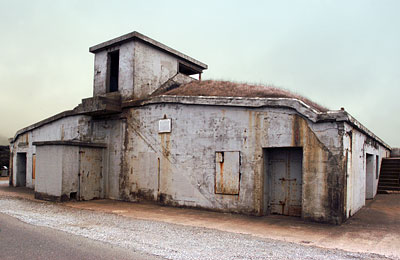 28 September 2004
(Click Photos to Zoom)
Battery Rathbone-McIndoe
This fortification was completed in 1905 and originally named for 2nd Lieutenant Samuel B. Rathbone, who had died in the War of 1812. It was armed with 4 small, rapid fire rifles having 6" diameter barrels. In early years, its guns protected the entrance to the Bay from enemy ships. During World War II, it guarded minefields outside the Golden Gate. The army eventually divided Battery Rathbone into two parts. The eastern section was renamed for Major General James McIndoe, who had ben killed in France in 1918. The western half retained the name Rathbone. All guns were finally removed in 1948.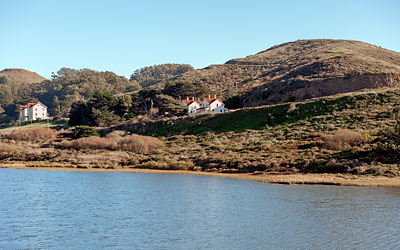 Rodeo Lagoon and Fort Barry Housing
29 September 2011
(Click Photo to Zoom)
Fort Barry
Marin Headlands
Built 1908
Fort Barry is an excellent example of an army post built during the Endicott Period.
During the the Endicott Period, named for Secretary of War William C. Endicott, the War Department was concerned about the dilapidated condition of the country's seacoast fortifications. The army made sweeping recommendations in the 1890s to modernize and re-arm all seacoast forts.
In 1902, the army constructed new seacoast fortifications at Fort Baker, just inside the Golden Gate strait. By 1908, the army recognized the need for additional defenses, outside the Golden Gate strait, and constructed Fort Barry and its batteries for this purpose.
Courtesy National Park Service Golden Gate National Recreation Area: Fort Barry.

Historic Fort Barry defenses are Battery Hill, Battery Rathbone-McIndoe, Battery Wallace, Battery Alexander, Battery Mendell, Nike Administration Site 88, Nike Launcher Site 88, Battery Smith-Guthrie and Battery O'Rorke.
Adapted from the NRHP nomination submitted in 1973.

Fort Barry contributes to National Register Historic District #73000255 which also includes Fort Baker and Fort Cronkhite. All three forts are included in the Golden Gate National Recreation Area and are accessible to the public.