California Historical Landmark 220
Mission San Rafael Arcangel
5th Avenue and A Street
Plaque Northeast Corner Merrydale and San Pedro Road Offramp of Southbound 101
San Rafael
Founded 1817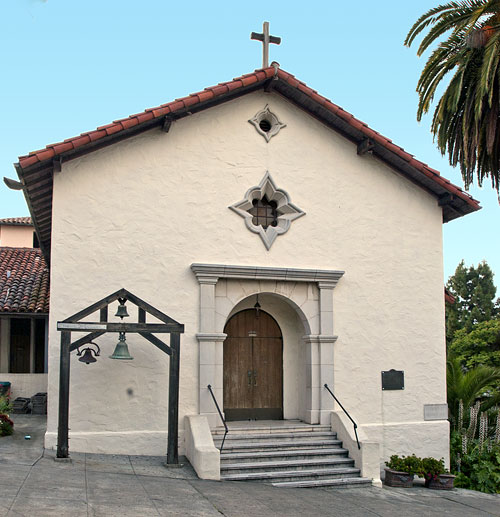 Reconstructed Mission
Mission San Rafael Arcangel
The San Rafael Arcángel Mission, 20th in the chain of the 21 California missions, was established in 1817 by the Franciscan Order. After the 'decree of secularization' in 1834, the buildings gradually fell into ruin. The mission was reconstructed on the original site in 1949.
Citation from California Office of Historic Preservation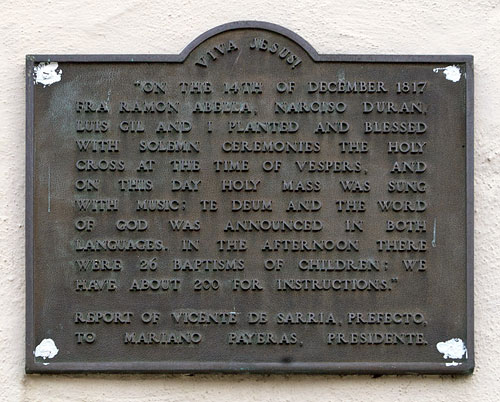 Plaque on Front of Mission
Both Photos 11 June 2005
(Click Photos to Zoom)
Viva Jesus!
"On the 14th day of December 1817 Fra Ramon Abello Narciso Duran Luis Gil and I planted and blessed with solemn ceremonies the Holy Cross at the time of Vespers, and on this day Holy Mass was sung with music; Te Deum and the Word of God was announced in both languages. In the afternoon there were 26 baptisms of children; we have about 200 for instructions."
Report of Vicente de Sarria, Prefecto, to Mariano Payeras, Presidente.