California Historical Landmark 215
Camp Curtis
L. K. Wood Boulevard North of Ridge Road
Arcata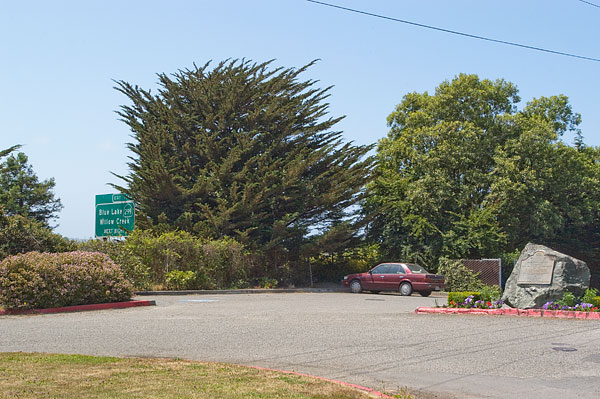 The plaque is in a residential cul-de-sac southeast of the intersection of
Highways 101 and 299, two of the most scenic routes in California.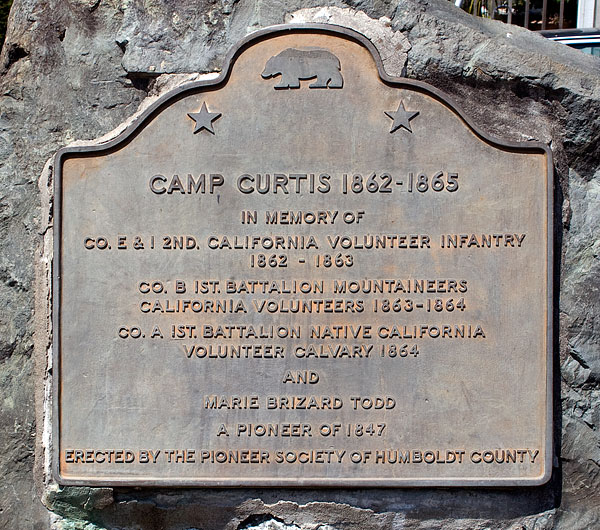 6 July 2007
(Click Photos to Zoom)
Camp Curtis 1862-1865
In Memory Of
Co. E & I 2nd. California Volunteer Infantry
1862-1863
Co. B 1st. Battalion Mountaineers
California Volunteer Infantry 1863-1864
Co. A 1st. Battalion Native California Volunteer
Calvary 1864
And Marie Brizard Todd
A Pioneer of 1847
Erected by the Pioneer Society of Humboldt County

Today, all that remains of Camp Curtis is a California Historical Landmark. Before its official establishment in September 1862 was called Camp on Janes Farm and was used by local volunteer companies of the California Militia as early as 1858. Camp Curtis was the headquarters of the 1st Battalion of Mountaineers of California Volunteers from 1862 until 1865. In 1863, Captain George Ousley and 34 soldiers of Company B of the Battalion first garrisoned Camp Curtis near Daby's s Ferry and then moved to Fawn Prairie on the Hoopa Trail. A bronze tablet commemorating the camp's site was unveiled on October 5, 1930.
From the California State Military Museum