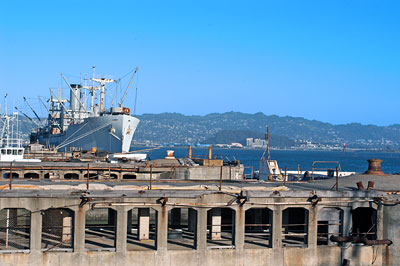 Red Oak Victory Ship
Docked at Richmond Shipyard Number Three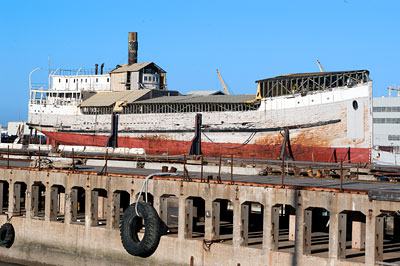 Wapama Steam Schooner
Grounded at Richmond Shipyard Number Three
Although Wapama is a National Historic Landmark and the last surviving ship of her type, she appears to be doomed.
Both Photos 14 February 2006
(Click Photos to Zoom)
National Register #00000364
Richmond Shipyard Number Three
Point Potrero
Richmond
Built 1942
Just prior to World War II and during the war, private shipyards were converted for military production on both coasts, and vast new shipyards were constructed, primarily on the West Coast. Capitalizing on the desperate need for more ships, Henry J. Kaiser built shipyards in Portland Oregon, Vancouver Washington, and Richmond California.
By war's end, the Kaiser group had become the largest producer of ships in the nation, and the Bay Area had the greatest concentration of ship construction in the world. Richmond Number Three was one of four Kaiser yards built in Richmond and was constructed in 1942.
It is the only Kaiser yard still largely extant.
Excerpted from the NRHP nomination form.

This seven hundred acre Historic District contains six contributing buildings and five contributing structures.
It is also California Historical Landmark 1032.
| Name | Year | Address | Remarks | Sort Address | Sort Name |
| --- | --- | --- | --- | --- | --- |
| Machine Shop | 1947 | | | 1 | Machine Shop |
| General Warehouse | 1942 | | This streamline moderne structure, called "a monument to modern design" when it was constructed, appears to be the architectural embodiment of a radio. | 2 | General Warehouse |
| Sheet Metal Shop - Riggers Loft - Paint Shop | 1942 | | | 3 | Sheet Metal Shop - Riggers Loft - Paint Shop |
| Forge Shop | | Behind the machine shop. | | 4 | Forge Shop |
| Basins | | | Five concrete basins. | 5 | Basins |
| Cafeteria | 1943 | Near entry gate. | One-story wood-framed building. | 6 | Cafeteria |
| First Aid Station | | 1308 Canal | | 7 | First Aid Station |