California Historical Landmark 951
East Brother Light Station
East Brother Island
San Pablo Bay
Built 1874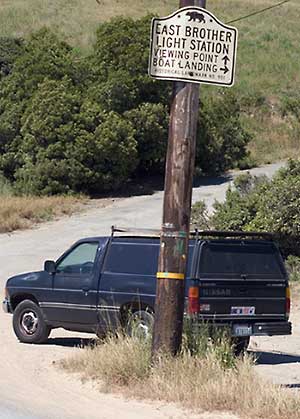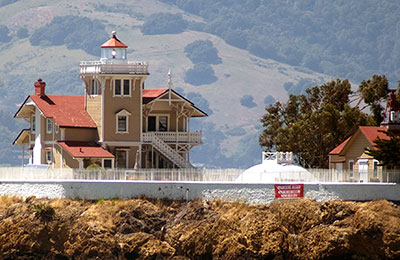 16 May 2006
(Click Photos to Zoom)
East Brother Light Station
East Brother is the oldest wood-frame lighthouse on the West Coast still fully operational and still in its historic configuration with functioning equipment. It was one of a group of twelve lighthouses similar but unique in design, built in California during the early 1870's. At the time it was built, it provided both a light and roof signal to guide boats ferrying mail, passengers, and freight between San Francisco and various island ports.
Citation from California Office of Historic Preservation

The light station stands on one of two small, barren islands, West Brother and East Brother, located in the San Pablo Bay, about a fifth of a mile from the mainland in Richmond.
For the best view of the light station from the mainland, take Interstate 580 west through Richmond to the last exit before the Richmond-San Rafael Bridge, the Point Molate Exit. If you miss the exit, you will not only cross the San Pablo Bay but also pay a toll for the inconvenience.
The exit road leads through the Winehaven Historic District, past the Richmond Rod and Gun Club, and to a fork in the road marked with a directional sign on a utility pole. Taking the Viewing Point fork, we quickly found the road blocked by a gate covered with signs suggesting that visitors were unwanted. No view here. Taking the Boat Landing fork, we climbed a steep hill to be rewarded with a clear, but distant, view of the light station.
We were unable to locate a commemorative plaque other than the directional sign. If you know of another plaque or of another location for viewing the light station, please contact NoeHill.
For more information about East Brother Light Station, please see National Register Landmark 71000138.