Mondo Trasho With Lady Divine
April 1971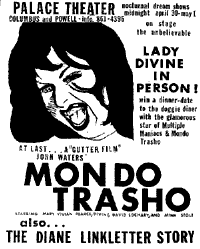 A sacrilegious sexploitation film from John Waters which thrusts Lady Divine, in all of her Frederick's of Hollywood splendor, into seedy Baltimore locals where she spends an unordinary day prowling alleys, laundromats and finally a mental institution in high heels and capri pants. This early black & white 16mm trash fest made with a non-sync sound track is just a teaser, for the luscious Divine, in the flesh, makes her first San Francisco appearance on stage at the Palace Theatre. Wheeling out a shopping cart loaded with dead fish, she is surrounded by photographers, causing her to suffer glamour fits on stage. When a policeman runs on to subdue her, he is publicly strangled.



Lady Divine in Person!
Win a dinner-date to the Doggie Diner with the glamorous star of Multiple Maniacs and Mondo Trasho.
(The Doggie Diner was a San Francisco treat from 1949 to 1986. One surviving doggie is San Francisco Landmark 254.)