Les Cockettes Folies des Paris
April 1971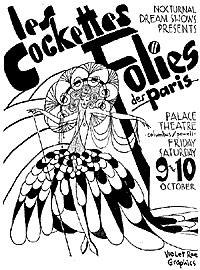 Nocturnal Dream Shows presents Les Cockettes Folies de Paris October 9th & 10th at the Palace Theatre, read the sylized black and white poster that John Rothermel designed under his nom de plume, Violet Rae. His graphics featured a Ziegfeld girl with a dick hidden in the folds of her skirt which promised the usual Cockette fare, only this time smothered in bernais sauce. Although the follies show was au courant, it might as well have been July 14th in the year 1789, as the performance advertised became a cause celebre for Hibiscus and if there had been a Bastille to storm, he would have done so, high heels and all.

Edith Piaf and the Mad Woman of Chaillot are just two of the fabulous French women who's lives are portrayed in this tour-de-force can-can of a show celebrating French song and sentiment, throughout history. From a silent tableau of Garrance and Baptiste, to the recreation of the glamour of the Follies Bergere, the exquisite costumes and glittered headdresses will have you strutting down the Avenue Des Champs Elysees.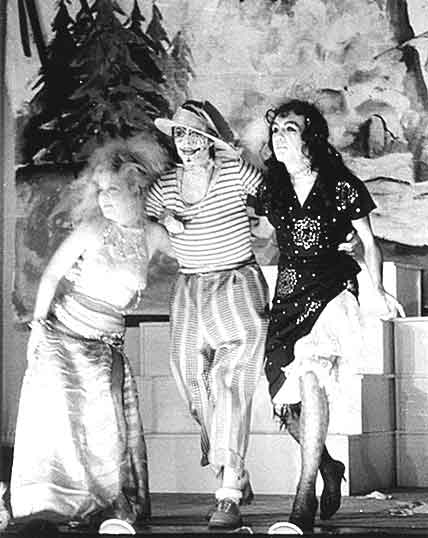 Harlowe, Sandy and Link Martin
Photo © Fayette Hauser