The Winter Wonderland
New Year's Eve Anniversary Extravaganza
Happy Days Are Here Again
December 1970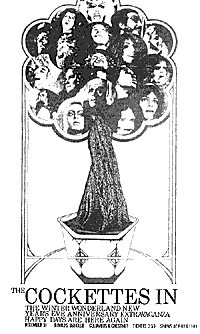 In a defiant departure from the Palace Theatre, this show was done at Bimbos 365 Supper Club. Done with minimal cast, the first act of this New Year's Eve show highlighted the best of the previous shows of the year. The Cockettes all hop onboard a Showboat and cruise to the South, to Carnival in Brazil and finally to Paris. Act II featured new material with a winter theme when two, Frosty the Snowmen, roller skate a holiday number and Mrs. Claus sings "The Lady in Red".