California Historical Landmark 263
Stone Corral
SR 26 PM 0.8 Near Shelton Road
Rancho Calaveras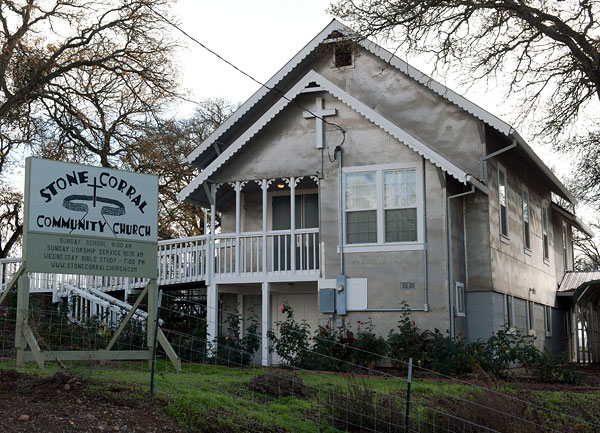 Stone Corral Community Church Built 1918
Photographed 7 December 2012
(Click Photo to Zoom)
Stone Corral
Stone Corral, consisting of a hotel, barns, and the large corrals for which it was named, was one of the stopping places on the road from the mines to Stockton.
Citation from California Office of Historic Preservation

We located the Stone Corral Community Church on State Route 26 near Shelton Road; however, we were unable to locate a commemorative plaque or any trace of the historic corral, hotel or barns.

Some Missing California Plaques
When we visited the following sites, we were unable to locate a California commemorative plaque.
At some sites, it appeared that a California plaque had never been erected. At other sites, there was a base, but the plaque itself was missing. Some sites without California plaques had other historic markers, but they did not note that the site is a California Historical Landmark.