Early Day
Butcher Shop
One of Amador County's
oldest buildings. Mar-
ble floor hauled by
mule-team from Fiddle-
town quarry.
March 1969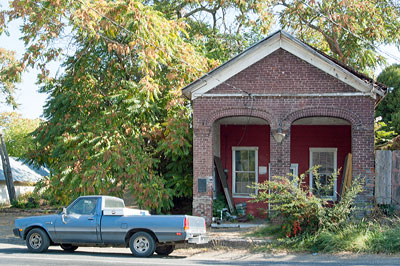 10 October 2006
(Click Photos to Zoom)
Early Day Butcher Shop
State Route 49 at Bens Alley
Drytown
Built c1860
The Butcher Shop had its beginnings in the 1860s.
The small, brick structure is in remarkable condition, looking much today as it did when first built. The marble floor of the front porch was cut from the Fiddletown quarry and hauled to town by mule team.
The porch is fronted by two arched doorways, probably fitted with iron doors at one time. The inside walls were plastered over, but the coating is beginning to crumble away.
Source: Amador County Historical Society