California Historical Landmark 28
Maiden's Grave
Highway 88 North of Dufrene Road
El Dorado National Forest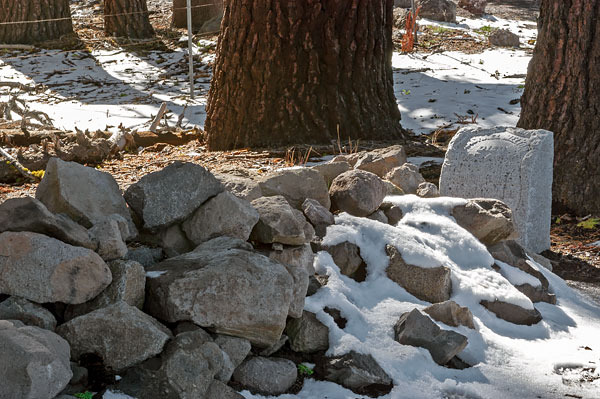 7 October 2007
(Click Photo to Zoom)
Maiden's Grave
It is said that in 1850 a young girl, Rachel Melton, native of Iowa, was accompanying her parents on a journey West via covered wagon train when she became violently ill. Camp was made and every effort was made to cure her, as she was the joy of the party, but she passed away and was buried on this spot.
Citation from California Office of Historic Preservation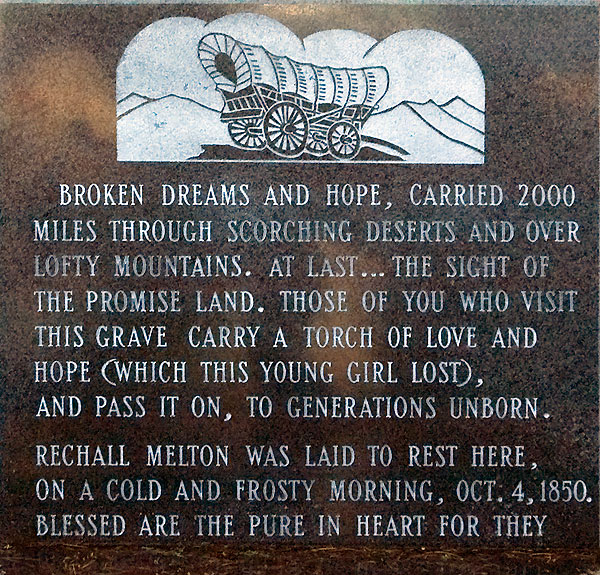 7 October 2007
(Click Photo to Zoom)
Broken dreams and hope, carried 2000 miles through scorching deserts and over lofty mountains. At last...the sight of the Promise Land. Those of you who visit this grave carry a torch of love and hope (which this young girl lost), and pass it on, to generations unborn.
Rechall Melton was laid to rest here, on a cold and frosty morning, Oct. 4, 1850. Blessed are the pure in heart for they....

Some Missing California Plaques
When we visited the following sites, we were unable to locate a California commemorative plaque.
At some sites, it appeared that a California plaque had never been erected. At other sites, there was a base, but the plaque itself was missing. Some sites without California plaques had other historic markers, but they did not note that the site is a California Historical Landmark.