Brix Mansion
in Fresno
Built 1911
Photographed 25 June 2006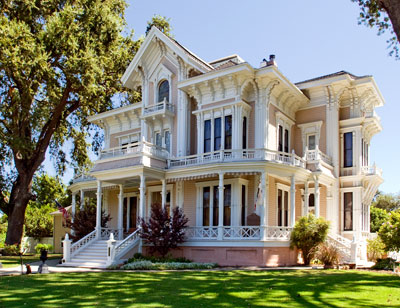 Gable Mansion
in Woodland
Built 1885
Photographed 11 August 2006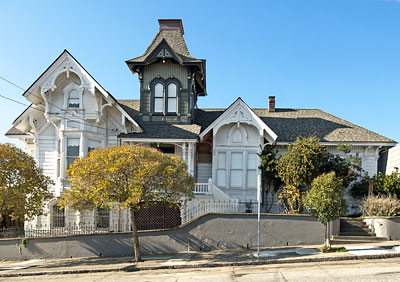 Nightingale House
in San Francisco
Built 1882
Photographed 31 January 2012
(Click Photos to Zoom)
The Italian Villa style was inspired by villas of Tuscany, Umbria and Lombardy.
The most striking feature of the Italian Villa is the tall tower which is located either at the middle of the façade or at one end.
The Italian Villa shares many characteristic with the contemporaneous Italianate style. The Italian Villa style is typically asymmetrical while the Italianate style emphasizes symmetry. Italian Villa have towers and are free-standing. Italianate buildings lack towers, and while they are often free-standing, the style was popular for urban row houses in cities such as San Francisco and New York.
Distinctive features of the Italian villa:
asymmetrical massing
tall tower
low pitched roof which resembles the pediment of a classical temple
projecting eaves with large brackets
grouped windows with rounded or straight tops
smooth stucco finish with exuberant ornamentation
arched loggia
rectangular bay
pedimented window heads
belt course
balcony
Italian Villa Buildings Sequenced By Year and Name
Click column headers to change the sequence.