California Historical Landmark 615
Fort Bragg
343 North Main Street
Fort Bragg
Period: 1857-1864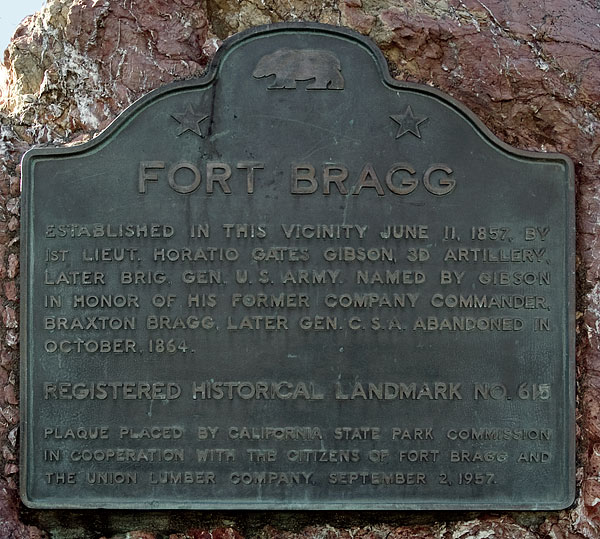 13 November 2005
(Click Photos to Zoom)
Fort Bragg
Established in this vicinity June 11, 1857 by 1st Lieut. Horatio Gates Gibson, 3d Artillery, later Brig. Gen. U.S. Army. Named by Gibson in honor of his former company commander, Braxton Bragg, later Gen. C.S.A. Abandoned in October 1864.
Registered Historical Landmark No. 615
Plaque placed by California State Park Commission in cooperation with the citizens of Fort Bragg and the Union Lumber Company. September 2, 1957.

The photograph shows the 1892 redwood Victorian built on the site of Fort Bragg as a home for Charles Russell Johnson who founded the Union Lumber Company and served as Fort Bragg's first mayor.
In 1912, the building became a guest house for Union Lumber, and it is now the Guest House Museum which documents the 150 year history of the lumber and fishing industries on the Mendocino Coast.