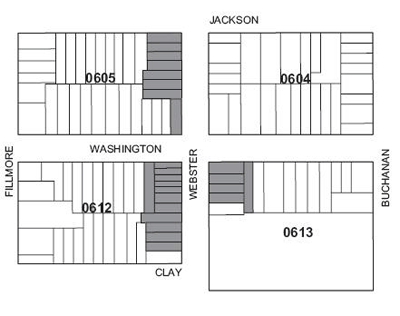 Map Courtesy of San Francisco
Planning Department
Webster Street
Bounded by Bush, Webster, Fillmore, and Sutter Streets
Built 1878-1880
Designated September 1991
The Webster Street Historic District consists almost entirely of houses in the Italianate architectural style. The district has a common scale, with nearly uniform height, setback, vertical emphasis and dominant cornice line. The consistency of the Italianate architecture is remarkable. Most of the houses still appear with their original or restored details.
Hollis of 2319 Webster, which constructed six houses in that block and nearly 1,000 others in San Francisco, over 200 of which are still standing. It pioneered quality Imll-cost housing in what were then suburbs. It used Baldwin Hotel architect John Remer. Thirteen of the remaining house s were built by Henry Hinkel, a speculative builder whose houses also still stand elsewhere in the ci ty. Hinkel was oldest in the second of his family's four generations of San Francisco builders.
The district gives a living view of typical, middle-class residential living of its period. However it is not a museum but a group of comfortable and practical homes for people of today. Economically it has proved its vigor in continuing the residential use for which it was built. It is attractive to passers-by, and many photographs of it have been printed.
Adapted from Resolution No. 8810 of the San Francisco Planning Commission