California Historical Landmark 823
Governor's Mansion
16th and H Streets
Sacramento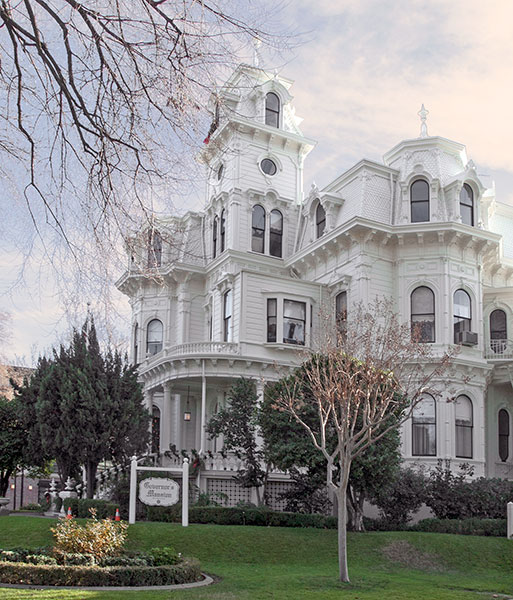 2 January 2009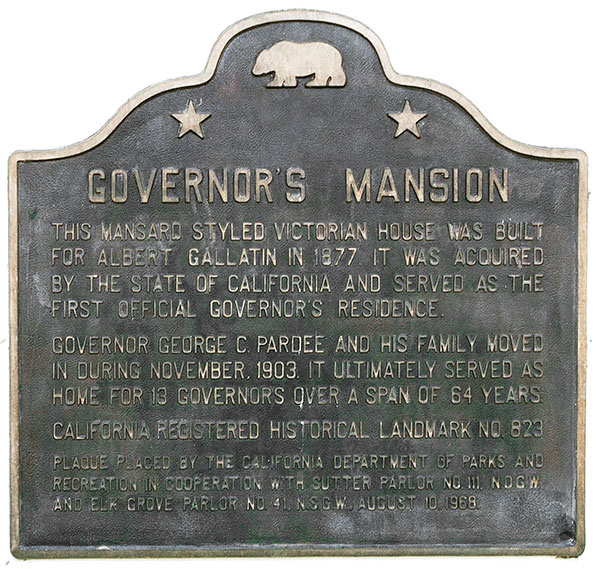 12 August 2006
(Click Photo to Zoom)
Governor's Mansion
This mansard styled Victorian house was built for Albert Gallatin in 1877. Acquired by the State of California and served as the first official Governor's residence.
Governor George C. Pardee and his family moved in during November, 1903. It ultimately served as home for 13 governors over a span of 64 years.
California Registered Historical Landmark No. 823
Plaque placed by the California Department of Parks and Recreation in cooperation with Sutter Parlor No. 11 N.D.G.W. and Elk Grove Parlor No. 41 N.S.G.W., August 10, 1968.

Ronald Reagan was the last California governor to live in this house. It is now a State Historic Park and
National Register Listing #70000139
.

Nancy Reagan Just Says "No" to the California Governor's Mansion
Reagan was First Lady of California during her husband's two terms as governor. She disliked living in Sacramento, which lacked the excitement, social life, and mild climate to which she was accustomed in Los Angeles. She first attracted controversy early in 1967, when, after four months' residence in the California Governor's Mansion in Sacramento, she moved her family into a wealthy suburb because fire officials had labeled the mansion as a "firetrap". Though the Reagans leased the new house at their expense, the move was viewed by many as snobbish. Nancy defended her actions as being for the good of her family, a judgment with which her husband readily agreed. Friends of the family later helped support the cost of the leased house, while Nancy Reagan supervised construction of a new ranch-style governor's residence in nearby Carmichael. The new residence was finished just as Ronald Reagan left office in 1975, but his successor, Jerry Brown, refused to live there. It was sold in 1982, and California governors have been living in improvised arrangements ever since.
From the Wikipedia entry Nancy Reagan
Just Say No to Everything
Nancy and the Nancy Boys