California Historical Landmark 318
Ebbetts Pass Route
State Route 4
Toiyabe National Forest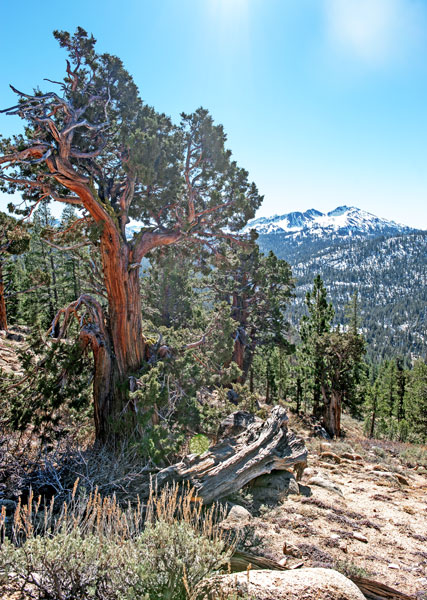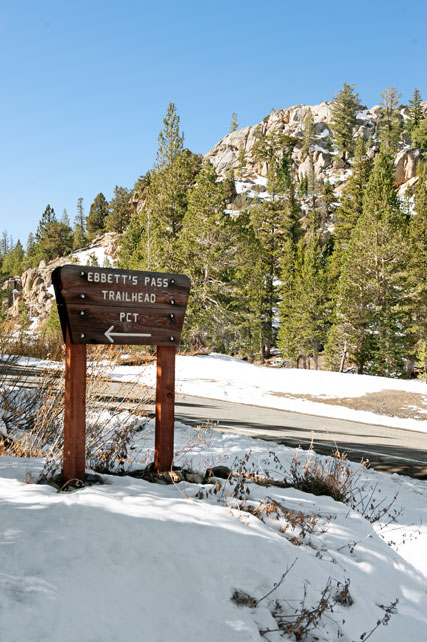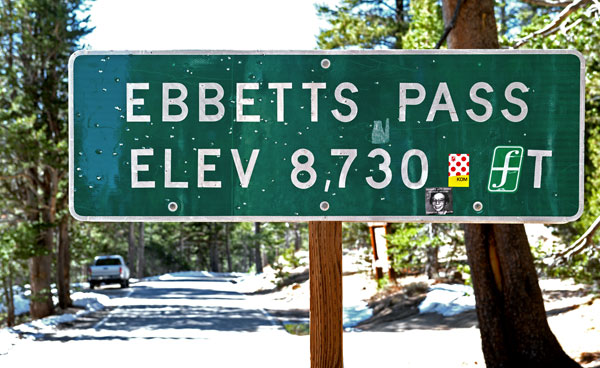 5 November 2012
(Click Photos to Zoom)
Ebbetts Pass Route
The Emigrant Trail through Ebbetts Pass, discovered by and named after 'Major' John Ebbetts, was opened up in the early 1850s, but no wagon road went that way until 1864, when a toll road, under the name of Carson Valley and Big Tree Road, was completed to help open up the Comstock Lode in Nevada.
Citation from California Office of Historic Preservation

Some Missing California Plaques
When we visited the following sites, we were unable to locate a California commemorative plaque.
At some sites, it appeared that a California plaque had never been erected. At other sites, there was a base, but the plaque itself was missing. Some sites without California plaques had other historic markers, but they did not note that the site is a California Historical Landmark.
Adams and Company Building, Sacramento
Altaville, Calaveras County
Anza Expedition Camp, Burlingame
Bear Valley, Mariposa County
Big Bar, Amador and Calaveras Counties
Birthplace of Freemasonry in California , San Francisco
Booth Home Site, Sacramento
Brannan Cottage, Calistoga
Brannan Store, Calistoga
Brown Home, Red Bluff
Bloody Point, Modoc County
Bonner Grade, Modoc County
Brannan House, Sacramento
Butte Store, Amador County
California Star Newspaper Site, San Francisco
Camino of Rancho San Antonio, Oakland
Chevra Kaddisha Cemetery, Sacramento
China Slough Site, Sacramento
City of Paris Department Store Site, San Francisco
Condemned Bar, Folsom Lake State Recreation Area
Congregational Church, Mokelumne Hill
Crabtree (Lotta) Home, Grass Valley
Crocker Gallery, Sacramento
Croll Building, Oakland
Donner Monument, Truckee
Douglas Flat, Calaveras County
Eagle Theatre, Sacramento
Ebbetts Pass, Alpine County
Ebner's Hotel, Sacramento
Evans and Bailey Fight, Modoc County
Fort Janesville, Lassen County
Frémont's Camp, Modoc County
Frog Woman Rock, Mendocino County
Glencoe (Mosquito Gulch) , Calaveras County
Giant Powder Company Site, San Francisco
Golden Gate Bridge, San Francisco and Marin Counties
Grange Hall Site, El Dorado County
Guillem's Graveyard, Lava Beds National Monument
Hornitos, Mariposa County
Hudson Cabin Site, Calistoga
Irishtown, Amador County
Jackson Gate, Amador County
Kelsey House Site, Calistoga
Kirkwood's, Amador County
Lady Adams Building, Sacramento
Laurel Hill Cemetery Site, San Francisco
Long Wharf Site, San Francisco
Maiden's Grave, El Dorado National Forest
Marklee's Cabin Site, Markleeville
Marshall's Blacksmith Shop, Kelsey
Methodist Episcopal Church, Placerville
Mills Bank Building, Sacramento
Mokelumne Hill IOOF Hall, Mokelumne Hill
Montez (Lola) Home, Grass Valley
Montezuma, Tuolumne County
Montgomery Hill, San Jose
Napa Valley Railroad Depot, Calistoga
Negro Hill, Folsom Lake State Recreation Area
Old Emigrant Trail, Modoc National Forest
Olema Lime Kilns, Marin County
Orleans Hotel Site, Sacramento
Overton Building, Sacramento
Parrott Block Site, San Francisco
Peralta Hacienda, Oakland
Pioneer Cemetery, Calaveras County
Pioneer Hall, Jackson
Plumas House, Quincy
Plymouth Trading Post, Plymouth
Pony Express Remount Station, Woodfords
Portolá Camp at Crystal Springs, San mateo County
Portolá Camp at Gazos Creek, Bean Hollow State Beach
Portolá Camp at Martini Creek, Montara
Portolá Camp at Pilarcitos Creek, Half Moon Bay
Portolá Camp at Pulgas Water Temple, San Mateo County
Portolá Camp at Purisima Creek, Half Moon Bay
Portolá Camp at San Gregorio State Beach, San Gregorio
Portolá Camp at Tunitas Beach, San Mateo County
Richmond Shipyards District, Richmond
Rincon Hill, San Francisco
Sacramento Bee Building, Sacramento
Sacramento Union Site, Sacramento
Sailing Launch Comet, Lathrop
Saint James Episcopal Church, Sonora
Salmon Falls, Folsom Lake State Recreation Area
San Joaquin City Site, Tracy
Smartsville, Yuba County
Stage Coach and Railroad, Sacramento
State Indian Museum, Sacramento
Stone Corral, Calaveras County
Studebaker's Shop, Placerville
Sutter Creek, Amador County
Swift's Stone Corral, Colusa County
Telegraph Hill, San Francisco
Transcontinental Railroad, Lathrop
Willms Ranch, Knights Ferry
Valley Springs, Calaveras County
Western Hotel, Sacramento
Woodbridge, San Joaquin County
Wood's Ferry and Bridge Site, Woodbridge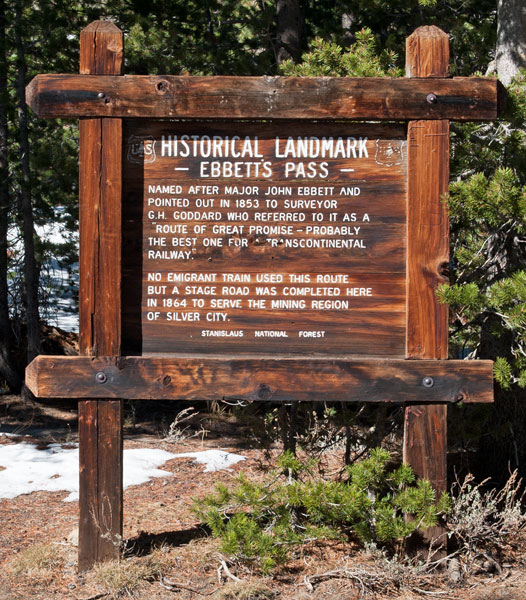 5 November 2012
(Click Photo to Zoom)
Historical Landmark
Ebbett's Pass
Named after Major John Ebbett and pointed out in 1853 to surveyor G.H. Goodard who referred to it as a "route of great promise - probably the best one for a transcontinental railway."
No emigrant train used this route but a stage road was completed here in 1864 to serve mining region of Silver City.
Stanislaus National Forest

How Did John Ebbetts Spell His Name?
In researching Ebbetts Pass, I have come across four spellings: Ebbetts, Ebbet's, Ebbett's, Ebbetts'. According to different sources, the pass was named after either "Major" Ebbetts or Major Ebbets or "Major" Ebbett. The word major is usually, but not always, in quotes.
State Route 4 is the Ebbetts Pass National Scenic Byway, one of seven National Scenic Byways in California as of August 2013. The Ebbetts Pass National Scenic Byway website uses Ebbetts (double-b, double-t, no apostrophe) as the name of the man and the pass:
Jedediah Strong Smith appears to have been the first Euro-American to enter the region. From his camp on the lower Stanislaus River, Smith and two companions traveled eastward, upstream, and crossed the Sierra Nevada in eight days during May of 1827. It is thought that the path traveled by Smith and his fellow trappers may have paralleled the present Highway 4....

"Major" J.A.N. Ebbetts claimed to have led a group of miners and mules east over the Sierras in 1851, using a snow-free pass at the headwaters of the Mokelumne River. Later, in 1853, he led a railroad survey team across the Sonora Pass region. From a high peak just east of Sonora Pass he pointed north to the pass he thought he took in 1851 to George Goddard, a mapmaker.

In 1854, Ebbetts died in a steamer explosion. In memoriam, Goddard placed the name Ebbetts Pass on the map he completed in 1856, approximately in the region he thought Ebbetts had pointed out. It was not until 1893, however, that the U.S. Geological Survey team, in drafting the Markleeville Quadrangle, officially named the location for Ebbetts.
The book, California Place Names by Erwin G. Gudde, gives the following citations for Ebbetts Pass:
From page 90 of the 1854 Surveyor General Report: "the pass we called Ebbets' pass, in memory of Major Ebbets who went over it in the spring of 1851, with a large train of mules, and who found no snow there in April."
John Ebbetts came to California in 1849 as captain of the Knickerbocker Exploring Company, and died April 15, 1854, in the wreck of the Secretary in San Pablo Strait.
From the Whitney Survey, Geology I: "In 1863 this was a simple trail, and it crossed the route designated on Britton and Rey's map as 'Ebbett's Pass'; this name is, however, no longer known in the region, as we could find no one who had ever heard of it.
The old name was restored when the Geological Survey surveyed the Markleeville quadrangle in 1893.